[This is a guest post by Sara de Rose.]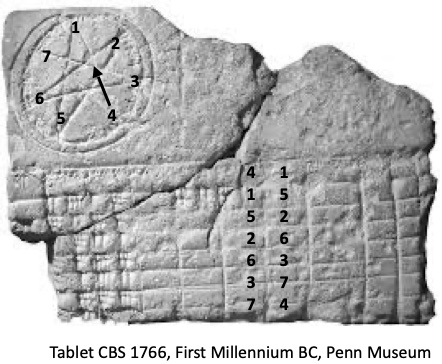 Calendars, old and new, are based on astronomical cycles: the yearly cycle of the sun; the monthly cycle of the moon. But there is one unit of time that doesn't adhere to any celestial rhythm: the seven-day week.
Celsus, a second century Greek philosopher, wrote that the week-day order is based on "musical reasons…quoted by the Persian theology." 
Persia (Iran) was the neighbor of Mesopotamia (Iraq). Archaeological artifacts suggest that the two cultures shared the same musical system, and cuneiform tablets from Mesopotamia have allowed archaeologists to re-construct this system. The consensus is that, from at least 1800 BC, the Mesopotamians used a seven-note scale that is the ancestor of our modern major scale – and the structure of this scale was understood to be related to the sequence 4,1,5,2,6,3,7. 
Read the rest of this entry »