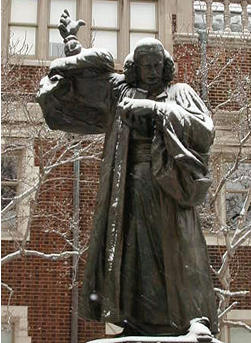 More than a decade ago, I posted about the oratorial skills of George Whitefield: "If I could only say 'O!' like Mr. Whitefield", 5/15/2009. He was an itinerant preacher who played an indirect role in the origins of the University of Pennsylvania, whose original 1740 home was a building constructed in an unsuccessful attempt to lure Whitefield to settle in Philadelphia. What I didn't know at the time was that Whitefield later played a central role in the introduction of slavery to Georgia, where he did settle:
Slavery had been outlawed in the young Georgia colony in 1735. In 1747, Whitefield attributed the financial woes of his Bethesda Orphanage to Georgia's prohibition of slavery.He argued that "the constitution of that colony [Georgia] is very bad, and it is impossible for the inhabitants to subsist without the use of slaves.
Between 1748 and 1750, Whitefield campaigned for slavery's legalisation. He said that the colony would not be prosperous unless farmers had slave labor. Whitefield wanted slavery legalized not only for the prosperity of the colony, but also for the financial viability of the Bethesda Orphanage. "Had Negroes been allowed", he said, "I should now have had a sufficiency to support a great many orphans without expending above half the sum that has been laid out." Whitefield's push for the legalization of slavery "cannot be explained solely on the basics of economics." It was also that "the specter of massive slave revolts pursued him."
Slavery was legalized in 1751. Whitefield saw the "legalization of slavery as part personal victory and part divine will." Whitefield now argued a scriptural justification for slavery. He increased his number of slaves, using his preaching to raise money to purchase them. Whitefield became "perhaps the most energetic, and conspicuous, evangelical defender and practitioner of slavery."
Read the rest of this entry »