Yesterday BBC's Radio 4 program "Today", the cultural counterpart of NPR's "Morning Edition", invited into the studio a robot from the University of Sheffield,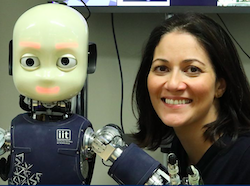 the Mishalbot, which had been trained to conduct interviews by exposure to the on-air speech of co-presenter Mishal Husain. They let it talk for three minutes with the real Mishal. (video clip here, at least for UK readers; may not be available in the US). Once again I was appalled at the credulity of journalists when confronted with AI. Despite all the evidence that the robot was just parroting Mishalesque phrases, Ms Husain continued with the absurd charade, pretending politely that her robotic alter ego was really conversing. Afterward there was half-serious on-air discussion of the possibility that some day the jobs of the Today program presenters and interviewers might be taken over by robots.
The main thing differentiating the Sheffield robot from Joseph Weizenbaum's ELIZA program of 1966 (apart from a babyish plastic face and movable fingers and eyes, which didn't work well on radio) was that the Mishalbot is voice-driven (with ELIZA you had to type on a terminal). So the main technological development has been in speech recognition engineering. On interaction, the Mishalbot seemed to me to be at sub-ELIZA level. "What do you mean? Can you give an example?" it said repeatedly, at various inappropriate points.
Read the rest of this entry »
Permalink Comments off