« previous post | next post »
Just last week, Caity Weaver was waxing rhapsodic about Kim Cattrall's alveolar plosives in the New York Times Styles section:
When Ms. Cattrall says the word "didn't," she respects each and every D and T.
Indeed, it could be said that alveolar plosives — the consonant sounds made by tapping the tip of the tongue to the alveolar ridge, just behind the teeth, as when hitting one's D's and T's — are some of Ms. Cattrall's best work. She is a careful enunciator who takes time to pronounce distinctly every element of a consonant cluster. Her diction might be described as intricate.
(More from Mark Liberman here.)
And now the plosives are back, in a Styles article by Jonah Engel Bromwich about IHOP's curious rebranding as "IHOb" (which it turns out has to do with burgers).
P and b are both bilabial plosives, meaning that your mouth does the same thing when you make the sound of both letters. The difference is that "b" is voiced, which for some people, makes it sound funny or strange coming at the end of a word.
It turns out that's actually the third time the Times Styles team has showcased plosives this month. They got mentioned back on June 2 in a roundtable discussion of Samantha Bee's notorious "feckless c*nt" remark about Ivanka Trump. Styles staff editor Bonnie Wertheim had this to say:
Let's just acknowledge that we're going to have an entire conversation about a word we've been told we cannot print. What is it about this word that so many people — including our bosses — consider unspeakable?
Bonnie Wertheim I try not to use the word, and have at times taken the "See you next Tuesday" approach of Charlotte of "Sex and the City" (and I am definitely not a Charlotte). There's something about the sound of it that is sonically shocking — the juxtaposition of two harsh plosives in a string of so few letters. But I don't see the big deal with spelling it out once in print.
This is surely the most pop-cultural attention that plosives have received since Ben Folds and Nick Hornby wrote the song "Saskia Hamilton" for their 2010 album Lonely Avenue and included the line "She's got two sibilants, no bilabial plosives." The following year on Language Log, I wrote about the video for the song (performed by Charlie McDonnell, aka "charlieissocoollike").
If you need a dictionary definition of plosive, it's provided in the video (the same Oxford Dictionaries definition that the Times linked to in its Samantha Bee roundtable).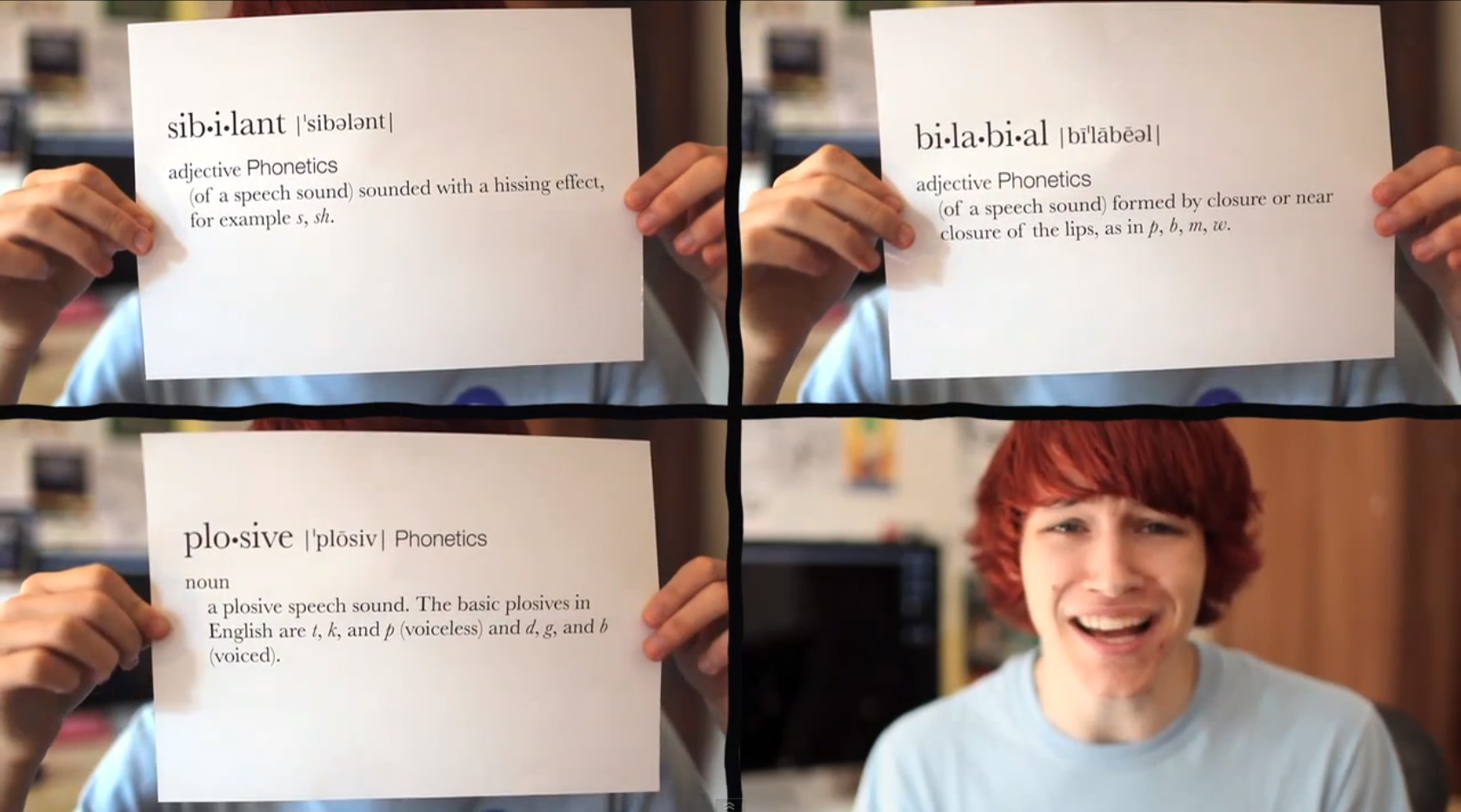 Update: Via Twitter, Laurel Mackenzie informs us that she taught Caity Weaver about plosives as her TA in Mark Liberman's Intro to Linguistics class in 2007. It all comes full circle!
---