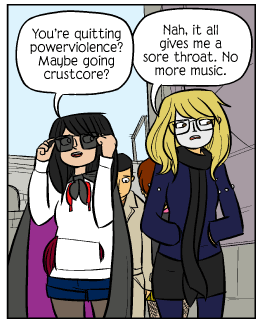 In today's Bad Machinery, Shauna abandons powerviolence and decides against crustcore.
Some of you will recognize that these are names of musical genres, well enough established to have Wikipedia entries. Thus
Powerviolence [...], is a raw and dissonant subgenre of hardcore punk.The style is closely related to thrashcore and grindcore.
and
Crust punk (often simply crust) is a form of music influenced by anarcho-punk, hardcore punk and extreme metal.