[This is a guest post by Jichang Lulu]
In "Ornamental Manchu: the lengths to which a forger will go" (LL, April 24), Professor Mair discussed a handscroll with faux-Manchu inscriptions. Although the writing clearly imitated Manchu, the imitation was so liberal and the forger so unfamiliar with the Manchu script that hardly any word was intelligible even to eminent Manjurists consulted for the post.
As a non-Manjurist, I found the text only more puzzling, but was able to identify its model by comparing a a conjectural reading of a non-recurring word in it to a published text of a Manchu translation of the Heart Sutra (Fuchs, Die mandjurischen Druckausgaben des Hsin-ching (Hṛdayasūtra) (non legi), transcribed in Hurvitz, "Two polyglot recensions of the Heart Scripture", J Indian Philos 3:1/2 (1975)). That guess I shared in a comment embedded in the post, elaborated under it with the likely source text. That presumably settled the question, but, with the source given in transliteration only, didn't make it any easier to appreciate the hilarious cavalierness of the copy without an ability to mentally untransliterate it back into the Manchu script.
Professor Kicengge has now compared the text to a Manchu-script rendition of the sutra and composed an image that juxtaposes the copy to its model. The juxtaposition verifies the identification of the source text: not only does the text (very roughly) match, so does its division into columns.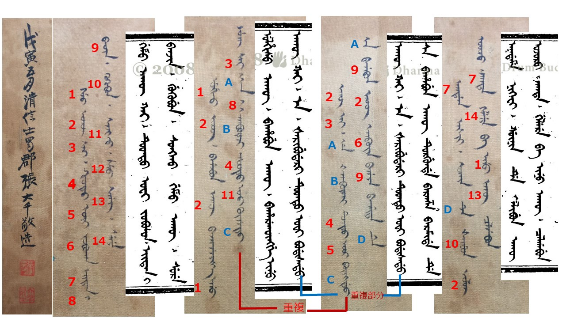 The handscroll's faux Manchu and its model, juxtaposed. Supplied by Kicengge.
Read the rest of this entry »