« previous post | next post »
Ben Zimmer spotted this interesting street sign in the New York Times photo essay, "DMs from New York City" (June 26, 2023).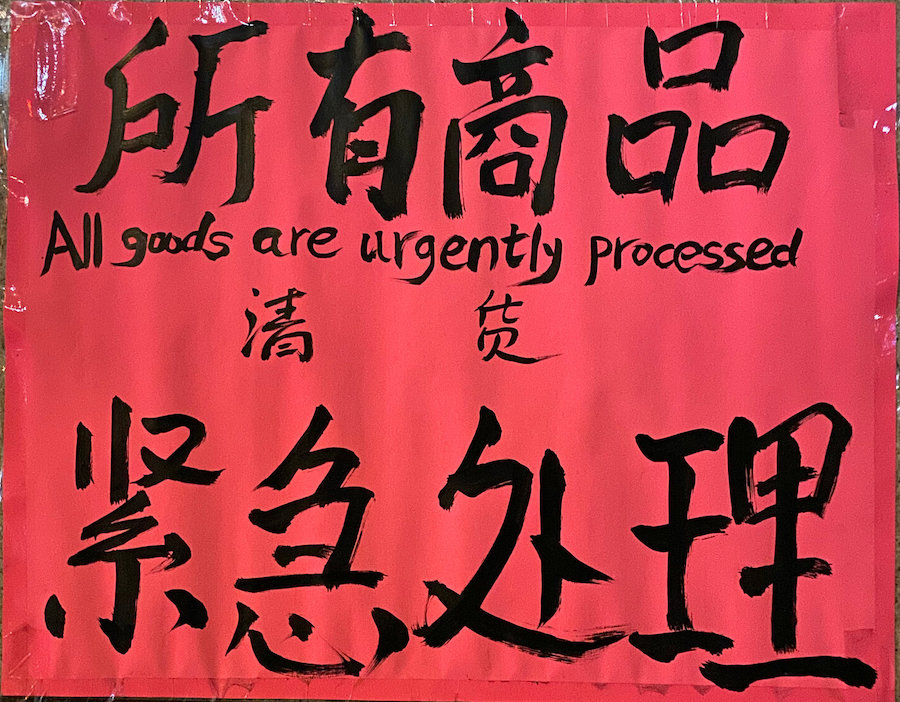 The Chinese says:
suǒyǒu shāngpǐn
所有商品
"all merchandise"
qīnghuò
清货
"clearance / liquidation of goods"
jǐnjí chǔlǐ
紧急处理
"[must / will be] dealt with / handled urgently"
It is true that chǔlǐ 处理 often, if not usually, means "process" (might make you think of "processed food" or something like that), but in this context it idiomatically signifies "sell off at a sharply reduced price".  It is surprising that this specific explanation is listed as the second definition in the literarily inclined Zdic.
I personally thought that the writing looked execrable, or nearly so, but all of the native speaker consultants I asked about it said that it's not bad, though perhaps by someone who is not experienced writing with a brush and also had a hard time squeezing things in proportionally.  One person opined, "I find it rather endearing with an unsophisticated grace".
—
In forthcoming posts, I will discuss the nuances of jí 急 ("urgent; pressing; anxious") and shāng 商 ("merchant; name of the first attested dynasty in the East Asian Heartland [EAH]").
Selected readings
[Thanks to Zihan Guo, Jing Hu, and Jack Lu]
---