« previous post | next post »
Shaing tai asked whether I recognized these characters: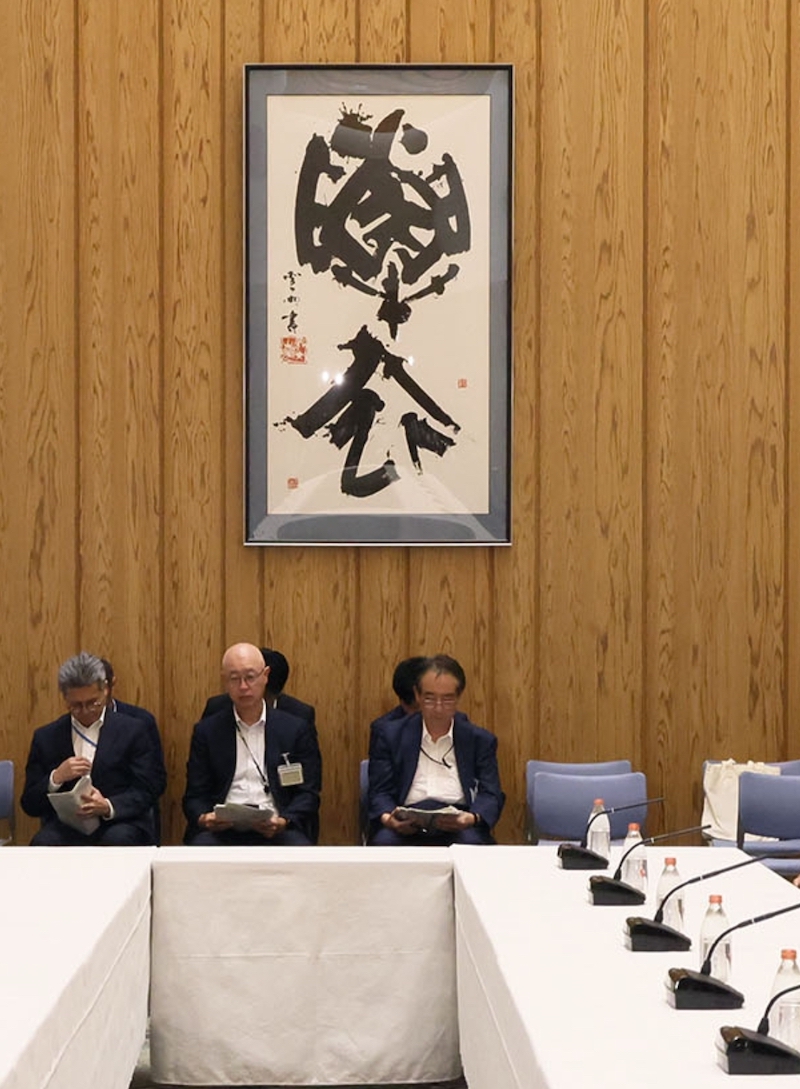 I didn't recognize the two characters, so I asked several Chinese and Japanese friends, and none of them recognized the characters either.  My curiosity piqued, I figured I might as well take a stab on my own to figure out what they were.
The calligraphy was displayed in the office of the Prime Minister of Japan on this occasion:
Zenkoku gyogyō kyōdō kumiai rengō-kai to no menkai
全国漁業協同組合連合会との面会 
(Meeting with the National Federation of Fisheries Cooperative Associations)
In that name, there are two occurrences of kai 会, which can mean, among other things (e.g., "party; club; assembly"), "meeting" and "association".  Moreover the meeting had to do with fisheries associations.  Consequently, within a few moments, I came to the conclusion that the two dramatically transformed characters are ryō-kai 漁会 ("fisheries association / meeting").
The 会 is basically a not too radical arrangement of the original kanji.  The 漁, while much more difficult to decipher, still has the basic configuration of a "fish" kanji, viz., go ご / gyo ぎょ 魚, sans the three dots water on the left side of go ご / gyo ぎょ / ryō りょう / 漁 (giving only the Sinitic style readings for the two characters) — that's the difference between "fish" and "fishing".  I can still see the stylized head, viscera and bones / belly / body, and tail of the 魚.  Whereas the three dots water signifying "fishing" have been removed, what has been added on either side are flamboyant fins.
That's just my boldly inspired reaction to the calligraphy.  Perhaps others will see it differently.
Selected readings
---