It's good to find a prominently displayed list of local bus routes that you can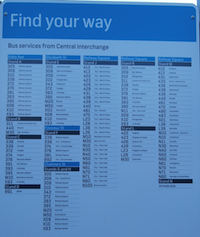 consult when you arrive at the train station in a big city that perhaps you do not know.
And Sydney Central station in New South Wales, Australia, has exactly that. There is a big board headed "Find your way" at the station. But let's take a closer look at it. See if you can spot the nerdview (pointed out to me by Language Log reader Geoff Dawson).
Read the rest of this entry »