« previous post | next post »
It's good to find a prominently displayed list of local bus routes that you can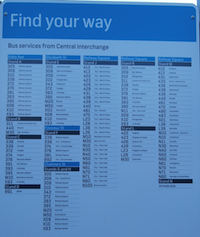 consult when you arrive at the train station in a big city that perhaps you do not know.
And Sydney Central station in New South Wales, Australia, has exactly that. There is a big board headed "Find your way" at the station. But let's take a closer look at it. See if you can spot the nerdview (pointed out to me by Language Log reader Geoff Dawson).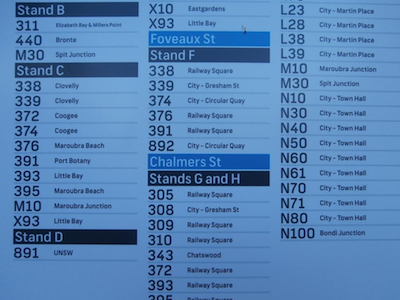 Do you see it? The list is organized as a list of the alphanumeric strings that are interpretable as bus route identifiers. Each is paired with a destination and a capital letter denoting a bus stand location, together with an indication of where the bus stand will be, so the information you need is all there. You can't complain about that. Yet still there is classic nerdview.
What the bus company technical team originally needed to work out was where each bus would pull up to take on passengers. The bus stop positions (called "stands") were assigned letters, and the letters were paired up with available positions in nearby streets. Then each stand letter was assigned a share of bus routes (hence paired with a set of bus route identifier strings), and each bus route identifier string was paired with a statement of the final destination for buses on that route. The list shown in the pictures was the result.
But what a traveler needs on arrival at the station, almost certainly knowing where they want to get to, is in effect a mapping from destinations to bus route identifiers, and then a mapping from bus route identifiers to stands, and then a mapping from stands to street locations. What the transport authorities in Sydney have provided is basically the reverse of this. If you know the street location, you can find a given stand; if you know the stand you want, it's easy to get from that to a list of bus route identifiers; and if you know the bus route you want, it's easy to scan down the alphanumerically sorted list of identifiers to find it. Then you will see the destination it is paired with, and you will know where that bus will take you.
They have in effect provided a sign that will tell you exactly what the question is provided you can already supply the answer.
What you will typically face is a series of questions like this: How do I get to Chatswood? (Answer: You need bus number 343.) How do I find bus number 343? (Answer: It'll pull up to either stand G or stand H.) And where are stands G and H? (Answer: They're on Chalmers Street.) That's how you want it to go.
But the sign as it stands doesn't take this perspective. It would be ideal for a forgetful bus company manager needing to answer a question like: "In what street did we put stands G and H?" or "Where did we decide that the 343 should stop?". But no traveler will have questions of this sort. The sign clearly takes the perspective of the traffic-flow engineers and bus company planners.
The sign should have been organized by destinations, laid out in alphabetical order: Bondi Beach, Bondi Junction, Chatswood, Circular Quay, Clovelly, Coogee, Eastgardens… They might even have included notable sights and important institutions: Harbour Bridge, Macquarie University, Opera House, University of Sydney, etc. (Incidentally, all the destinations like "City – Gresham Street", "City – Martin Place", "City – Town Hall", etc., should have the redundant "City" removed — I think we all know that Sydney City Hall will be in the heart of the city — and replaced by "Gresham Street", "Martin Place", "Town Hall", etc.) Then after each destination there should be a list of suitable bus routes linked to stand letters and locations:
| | |
| --- | --- |
| Chatswood: | 343 from stands G & H in Chalmers Street |
| Coogee: | 372 or 374 from stand C in Eddy Avenue |

…
It shouldn't be necessary for Language Log to explain to the public transport authorities of Sydney how to design their signs. But we have to, because local transport authorities just do not get it about nerdview.
Design signs for the public so that they make sense from the perspective of the intended user, not from the perspective of the engineer or planning authority creating the sign.
Is that too hard to understand?
---