[This is a guest post by Bob Ramsey]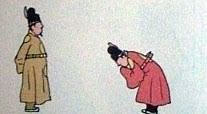 In Joseon Korea, state agencies enthusiastically accepted their satellite position vis-à-vis Ming China. In fact, when King Sejong (1397-1450) revealed his new, non-Chinese writing system, the bureaucracy issued, in 1444, a blistering denunciation bordering on accusations of blasphemy:
"Our court, since the times of our founders and ancestors, has with utmost sincerity served the Great. We have uniformly honored Chinese institutions. But now, at this time of identical culture and identical standards, we create the Vernacular Script. We observe and attend this with alarm… If these graphs should flow into China, and if people there should adversely criticize them, how could we be without shame, considering our Service to the Great and our emulation of Chinese civilization!
Read the rest of this entry »
---