« previous post | next post »
Together with his "greetings from small-town Japan", Chris Pickel sent in this photograph of a sign, which was put up in his neighborhood for the aki-matsuri 秋祭り ("autumn festival").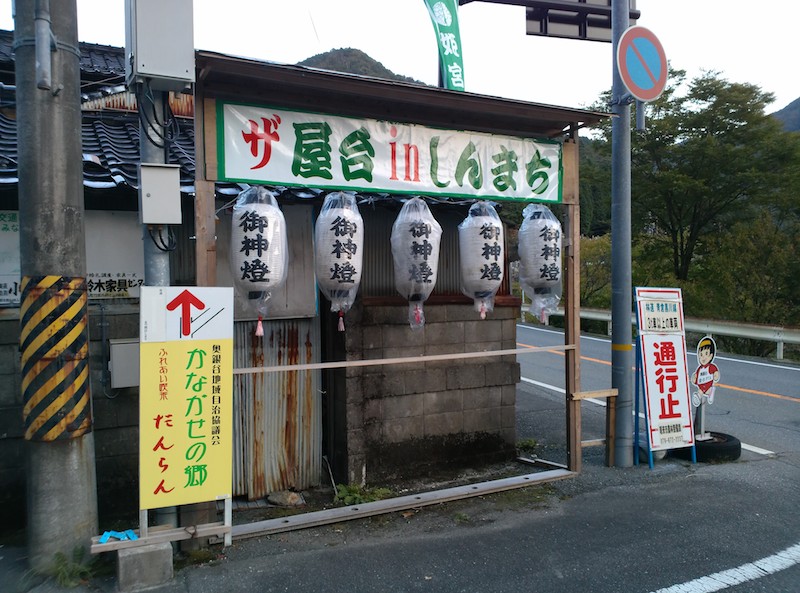 The first thing one observes, even if one doesn't read Japanese, is that the sign is composed of four different types of graphemes: katakana, kanji, rōmaji, hiragana. These are the four constituent components of the Japanese writing system. So, in a sense, the sign constitutes a clever, virtuoso display of Nipponesque orthography.
Note that the first and fourth words are written in red, which stands out from the overall green of the lettering; this serves to highlight or accentuate the fact that these words are gairai-go 外来語 ("loan words").
Moving on to the content of the words on the sign, I will start simple with a transcription and translation, then turn to a detailed discussion of its various elements.
za yatai in shinmachi ザ屋台 inしんまち ("the food stall[s] in Shinmachi")
A yatai is a small, mobile food stall / stand / booth or food cart. Shinmachi しんまち (in kanji that would be 新町/街) literally means "New Town / Street"; it is the name of many a town, street, district in Japan.
To me, initially the most conspicuous and jarring part of the sign was the za ザ ("the") at the beginning. One would think that the English definite article is not something that would be likely to be borrowed as an integral part of Japanese vocabulary. However, we shall find that it has actually become rather ubiquitous in certain contexts.
It seems that the English digraph "th", whether as voiced dental fricative /ð/ or voiceless dental fricative /θ/, is a particularly difficult for speakers of many foreign languages to pronounce. Witness French "ze". In any event, "the" becomes za ザ in Japanese.
I was astonished to discover that za ザ is all over the place in Japan. For instance, there's a popular television series entitled "Za! Sekai gyōten nyūsu" ザ!世界仰天ニュース ("The! World's Astonishing News"). Yes, the exclamation point does come right after the "The", and I don't know quite what to make of it. I suppose that it is meant to emphasize "The", as we might say "THE Mark Liberman" or "THE Geoff Pullum". On the intertubes some are calling this program "The World Astonishing News." I suppose that "THE Astonishing World News" would be more idiomatic in English.
An even more productive collocation involving za ザ ("the") in current Japanese is sutoppu za X ストップ・ザ・X ("stop the X"). This usage is certainly one of the ways that za ザ entered common parlance/usage in Japan (I wonder how the Japanese translated the title of the musical, "Stop the World I Want to Get Off" [1961]). Here are some examples of how it is used:
[chikyū] ondan-ka [地球]温暖化 ("[global] warming")
rejibukuro レジ袋 ("plastic shopping bags")
monju もんじゅ (name of a nuclear power plant)
sekuhara セクハラ ("sexual harassment")
ijime いじめ ("bullying")
The use of sutoppu za X ストップ・ザ・X ("stop the X") in slogans is not the only way za ザ ("the") has entered the modern Japanese vocabulary. Here's an advertisement for Prince Park Tower in Tokyo. And here's an interesting inversion.
In this case "THE" is kept in English and paired with the Japanese word "MANZAI," which is "traditional" Japanese stand-up comedy (more or less). Here "manzai" gets a boost in coolness (sophistication and internationalism?) from "The", but when written out in Japanese, it's ザ・マンザイ (one way to write "manzai" in kanji is 漫才).
That should be plenty enough evidence to show that za ザ ("the") has become part of contemporary Japanese vocabulary. But we cannot ignore the "in" that sits prominently at the center of the sign. "In" gets used a lot too in contemporary Japanese. Here are two examples.
According to Nathan Hopson:
The real question is why there's no symmetry between katakana for za ザ ("the") and Roman letters for "in". At one simple level, it's actually an admission that Japanese can't pronounce "the" the way English speakers do, but would still like to — it's an in-joke play of anxiety-producing sophistication and internationalism (English) + being able to admit this anxiety and inability to speak English (participate in sophisticated international society) to other Japanese. This is all very subtle psychological stuff.
"In", to my mind, is still more difficult to pin down than za ザ ("the"), where the anxiety is forefronted. It's never been clear to me whether "in" has that same dynamic. My gut (again) tells me no; "in" has a more positive, unambiguous nuance. But that's nothing more than my instinct.
Analyzed thus, that short sign from a rural Japanese town with which we began possesses a wealth of significance for understanding modern Japanese language, culture, and society.
[Thanks to Nathan Hopson, Cecilia Segawa Seigle, Hiroko Sherry, and Miki Morita]
---