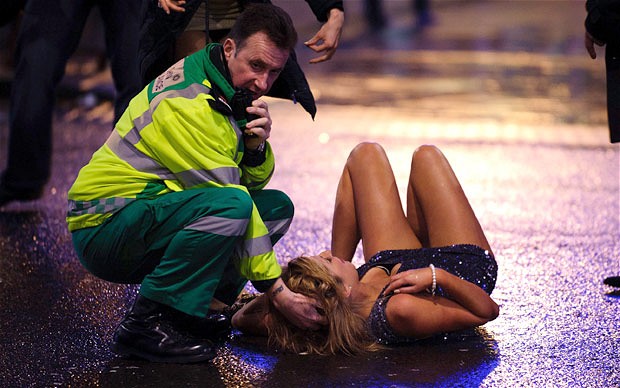 Towards the end of last year, there was a bit of a fuss in the UK about the role of alcohol in hospital costs. Thus Sarah Knapton, "Three in four people in A&E at weekend are there because of alcohol: 70 per cent of people are admitted to emergency units at the weekend as a result of drinking", The Telegraph 12/21/2015 — illustrated with the rather atypical picture on the right.
And there was plenty of other coverage, e.g. "Alcohol-related A&E cases rise to 70% of workload at weekends", Daily Mail 12/21/2015; Mike Doran, "Alcohol responsible for up to 70% of all A&E admissions as experts renew minimum unit price calls", The Mirror 12/21/2015; Annalee Newitz, "Drunk people account for 70% of weekend emergency room visits in UK city: Drinking binges are now a scientifically measurable phenomenon", Ars Technica 12/22/2015.
But there's just one little wrinkle: the actual rates that the study found (of alcohol involvement in weekend emergency-room visits) were more like 20%. So how did the journalists get from "one in five" to "three in four"? Well, basically in the same way that we're allowed to conclude that in 1986, the rate of space-shuttle explosions was one per week. After all, there was one week in that year (the last week of January) when there was an explosion. And in the cited study, there was one weekend hour (2:00-3:00 a.m.) when a bit over 70% of the patients were measured with a non-zero breath alcohol content.