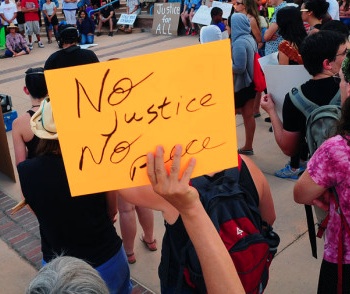 J.P. Villanueva writes:
I've been seeing the old "No justice, no peace" chant lately after the Zimmerman trial. It seems like people are lamenting that "there is no justice and there is no peace."
When I first heard the chant (during the Rodney King riots), I had understood quite clearly that "No justice, no peace" was a conditional statement… as in, "if you can't guarantee us justice, we will not let you have peace" in other words, it was a call to riot.
I'm sure the chant has a longer history, right? Has it always meant both things? or did I misinterpret back in the 90s?
Read the rest of this entry »