« previous post | next post »
Here are two items of ambiguity in advertising, one intentional and one not. First the apparently unintentional ambiguity: a new commercial from the Romney presidential campaign entitled "Failing American Families."
As the terse voiceover puts it, "Barack Obama. More spending. More debt. Failing American Families."
The telegraphic style is responsible for the ambiguity here. You could begin to fill in the elliptical gaps with something like: "Barack Obama [is responsible for] more spending [and] more debt." That might lead you to construe the third item as another noun phrase, denoting something else for which Obama is responsible.
But "failing American families" is not intended to be read as a NP meaning "American families that are failing," along the lines of "failing businesses." Rather, it's a predicate with deleted copula: "Barack Obama [is] failing American families," with "fail" as a transitive verb meaning "to let down" or "to disappoint." News reports fill in the gap: the National Journal, for instance, gives the message as "President Obama is 'failing' American families on spending and the national debt." The battling interpretations of "failing American families" are reminiscent of such chestnuts from intro linguistics classes as "I hate visiting relatives." (See my 2006 post, "Surprising crocodile kin," for more.)
The second ambiguity is a more strategic one, in the form of a public-service message for organ donation. Paul Ellis sends along this photograph, snapped on on a New York City subway: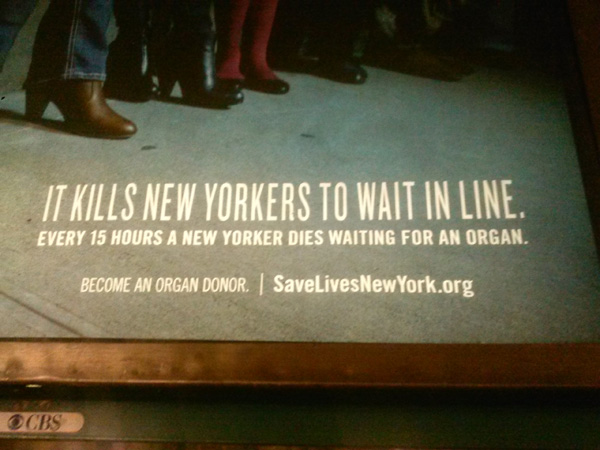 Let's leave aside the fact that, as Paul points out, New Yorkers wait on line, not in line. The message gets its punch by seeming to use a metaphorical sense of "kill," meaning something like "to cause distress": it distresses New Yorkers to have to wait in/on line. But the kicker is that "kill" is meant literally: waiting in line (for a donated organ) actually kills New Yorkers.
For more on how ambiguity of the intentional variety gets deployed in advertising, see Nancy Friedman's Visual Thesaurus column, "The Power of Ambiguity."
---