« previous post | next post »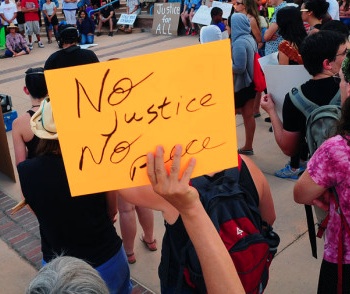 J.P. Villanueva writes:
I've been seeing the old "No justice, no peace" chant lately after the Zimmerman trial. It seems like people are lamenting that "there is no justice and there is no peace."
When I first heard the chant (during the Rodney King riots), I had understood quite clearly that "No justice, no peace" was a conditional statement… as in, "if you can't guarantee us justice, we will not let you have peace" in other words, it was a call to riot.
I'm sure the chant has a longer history, right? Has it always meant both things? or did I misinterpret back in the 90s?
A few years ago, Mark Liberman considered the "No X, No Y" construction and its potential for ambiguity. At the time, hackers had rigged highway signs on the Palmetto Expressway in Florida to read "No Latinos, No Tacos." While many interpreted the sign with a conjunctive reading — "(There should be) no Latinos (and) no tacos" — others discerned a conditional reading — "(If there are) no Latinos (there will be) no tacos." This latter reading echoes the "No justice, no peace" slogan that has been a staple of the U.S. protest movement, especially in New York City, since the late '80s.
In the '80s and '90s, as J.P. suggests, "No justice, no peace" was unequivocally understood as conditional, not conjunctive. I've found examples of the slogan going back to the aftermath of the Howard Beach incident in December 1986, in which Trinidadian immigrant Michael Griffith was killed by a mob of white youths. On Feb. 28, 1987, the New York Amsterdam News reported that "'No justice, no peace' has become the battle cry of the student led movement against racially motivated attacks on African peoples." The newspaper quoted protest organizer Viola Plummer as saying, "from the death of Michael Griffith on, we declare that if there is no justice there cannot be peace."
The following year, on May 11, 1988, the activist lawyer Ron Kuby testified before a hearing on racially motivated violence before the House of Representatives Subcommittee on Criminal Justice. Kuby stated:
In response to the increase of hate crimes by both the police and private citizens, a new civil rights movement has started to emerge in New York. The movement is broad and diverse, but has marched under the slogan "No Justice, No Peace," a slogan which summarizes the frustration and anger of New York's Black and Latino communities. "No Justice, No Peace" remains the solemn promise of an increasing number of people in an increasingly polarized city.
Kuby framed the slogan as a "promise" rather than a threat, but the conditional reading was still clear. After the killing of Yusef Hawkins in the Bensonhurst neighborhood of Brooklyn in 1989, the slogan again came to the fore. A May 13, 1990 New York Times article described protests in Bensonhurst that occurred on the same day as protests in Flatbush over allegations that a black woman had been roughed up at a Korean-owned grocery store. At the Flatbush protest, "No justice, no peace" was paired with the similarly conditional "No respect, no business," i.e., "(If you give us) no respect, (we will give you) no business." And at Bensonhurst, the slogan was rephrased as "Justice, then peace."
So what about now, with the protests over the Zimmerman verdict? Has the old threatening conditional turned into a more benign conjunctive, "(There is) no justice (and there is) no peace"? No doubt the slogan means different things to different people. As evidence of the range of interpretations, see the Huffington Post column by University of Pennsylvania chaplain Charles Howard:
To me the phrase "No Justice, No Peace" is not so much a threat as much as it is a cry of the heart. It is not simply a call to protest, but also a naming of the powers and what those powers have done.
Howard goes on to provide four of his own glosses on the slogan:
A lack of justice has resulted in a lack of peace.

Heavy hearts now lack peace because of the lack of justice in our nation.

No peace because of no justice.

We must work for both: To fix a broken justice system and a to fix the broken peace within our hearts and within our communities.
None of these readings pack the conditional punch of the original formulation — even when a cause and effect is stated ("No peace because of no justice") it is not a call to arms to disrupt "the peace" but rather an introspective reflection on how "peace within our hearts and within our communities" has been disrupted. His conclusion is a conjunctive one: "Let us work for both justice and peace." Perhaps the reanalysis of the old slogan is indicative of how the culture of protest over racial injustice has changed since the days of Howard Beach and Bensonhurst.
Update: On his website, Barry Popik has a page devoted to "no justice no peace" and provides a couple of examples from 1987 slightly earlier than the Amsterdam News quote given above:
22 January 1987. St. Petersburg (FL) Times, "4,500 march to protest racial attack in N.Y." by Dan Jacobsen, United Press International, pg. 11A:
NEW YORK – More than 4,500 black protesters chanting slogans to the beat of pounding drums marched in Manhattan Wednesday during a day-long demonstration of "outrage" against the Howard Beach racial attack.
With fists clenched in anger, they filled Broadway at 32nd Street, site of a city welfare hotel, then led a deafening demonstration down Fifth Avenue to Mayor Edward Koch's Greenwich Village home.
Chants of "No justice, no peace" and "Mayor Koch step aside, there ain't gonna be no genocide" echoed among the office buildings as police scrambled to line the route.

22 January 1987, Newsday (Long Island, NY), "4,000 March Against Racism But Impact Of Boycott Less Clear," pg. 3:
To the deafening beat of chants, a predominately black army of nearly 4,000 protesters marched down Fifth Avenue yesterday in a declared effort to defeat the notion that blacks will tolerate racial injustice.
The march highlighted "The Day of Mourning and Outrage" for Michael Griffith, who was killed by a car Dec. 20 while fleeing a gang of white teenagers in Howard Beach, Queens. (…)
Chanting "No justice, no peace," the five-block-long stream of marchers, some shaking clenched fists, set off from the Martinique Hotel, a welfare hotel on West 32nd Street. They marched to Mayor Edward I. Koch's Greenwich Village home, a 30-block walk that took an hour.
---