Front page problem
Check out the archive for November 2014 — or here are our most recent posts:
"Collect Fees Documents at Miss Hot Cafe", 11/28/2014
"Plebgate judgment", 11/28/2014
"Satirical travelogy", 11/27/2014
"Posts of Thanksgiving Past", 11/27/2014
"Hong Kong interlingual contrast", 11/26/2014
"Silver / aging / senior/ whatever industry", 11/26/2014
"Class war skirmishes in England", 11/26/2014
"No word for 'fetch'", 11/25/2014
"Built site specific inducted", 11/24/2014
"Dead-end sentences", 11/23/2014
"Topolect writing", 11/23/2014
"Official Chinglish, with a note on North Korean Juche", 11/22/2014
"Context", 11/22/2014
"Miracles of human language", 11/21/2014
"Lexical bling: Vocabulary display and social status", 11/20/2014
"Gotta catch 'em all", 11/20/2014
"Don't even know the rules of their own language", 11/20/2014
"A tiny, delicate thesaurus", 11/19/2014
"Mirai", 11/19/2014
"The insular islands", 11/19/2014
Why the odd front page? Well, all the LLOG posts are still there, but for some reason the regular front page (which usually shows the last 15 posts) now looks like this: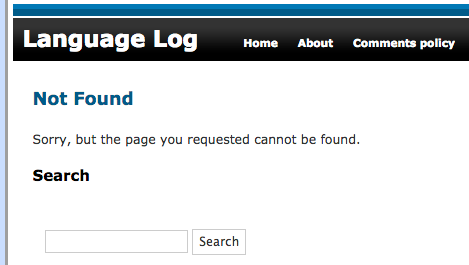 I (myl) have been traveling, so it's hard for me to work on the problem, but I hope to find a solution before long. Meanwhile, I've changed the WordPress settings so that the front page shows this message instead.
Sorry for the inconvenience!