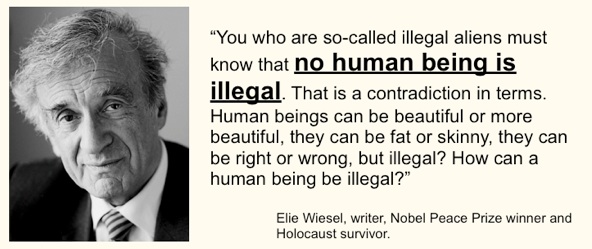 An important rallying cry and usage distinction made by allies of undocumented workers in the current cultural battle over immigration in the United States is Elie Wiesel's assertion above: "No human being is illegal." In the quote, Wiesel gives examples of the kinds of adjectives that he feels can denote properties of people (fat, skinny, beautiful, right, and wrong). On the other hand, calling a person 'illegal', he says, is a contradiction in terms.
Here's a more elaborated statement of the idea, quoted from this website 
When one refers to an immigrant as an "illegal alien," they are using the term as a noun.  They are effectively saying that the individual, as opposed to any actions that the individual has taken, is illegal.  The term "illegal alien" implies that a person's existence is criminal.  I'm not aware of any other circumstance in our common vernacular where a crime is considered to render the individual – as opposed to the individual's actions – as being illegal.  We don't even refer to our most dangerous and vile criminals as being "illegal." 
Now because syntax is my actual job, I am honor-bound to point out that the term 'illegal alien' is a noun phrase, not a noun, and furthermore, that "using a term as a noun" does not mean "using it to refer to a person, place or thing," which I think is what the author above may be trying to say. But that quibble aside, we can see the idea. Laws criminalize actions, not people. Hence only someone's actions, not their very existence, can be illegal.
What are the linguistic underpinnings of the intuition that using the term illegal alien implies that a person's existence is illegal? I think it derives from an important distinction in types of adjectival meanings that I've learned about from the work of my Language Log colleague Barbara Partee. Different types of adjectives license different patterns of inferential reasoning.
Read the rest of this entry »
Permalink Comments off