« previous post | next post »
From the website for Royal China Group, a famous Chinese restaurant group in London: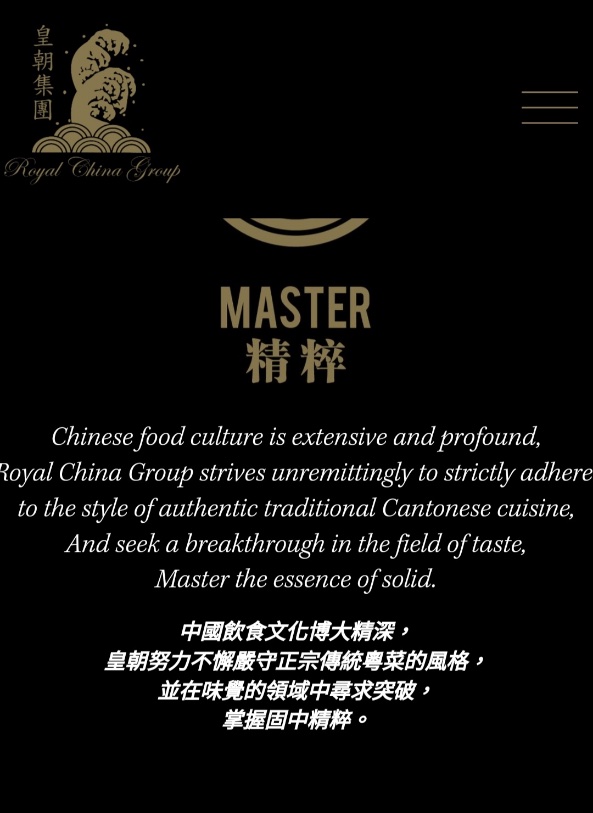 The problem begins at the beginning:  jingcui 精粹 does not mean "master"; it means "essence".
The entire text reads as follows:
Zhōngguó yǐnshí wénhuà bódàjīngshēn,
Huángcháo nǔlì bùxiè yánshǒu zhèngzōng chuántǒng Yuècài de fēnggé,
bìng zài wèijué de lǐngyù zhōng xúnqiú túpò,
zhǎngwò gùzhōng jīngcuì
中國飲食文化博大精深,
皇朝努力不懈嚴守正宗傳統粵菜的風格,
並在味覺的領域中尋求突破,
掌握固中精粹。
Except for the disastrous last line, the English translation is basically serviceable (mostly based on Google Translate).  But what are they trying to say in that last line?
"Zhǎngwò 掌握" really does mean "master".  The crux lies in how to analyze the grammar and syntax of the last two binoms, gùzhōng 固中 and jīngcuì 精粹 (not to mention the semantics of the former).
For the last six characters,
Google Translate has:
"Master the essence of solid"
Baidu Fanyi has:
"Mastering the essence of Guzhong"
Bing Translate has:
"Master the essence of solids"
DeepL has:
"Mastering the essence of solid China / Chinese"
[even the formidable DeepL was tripped up by Royal China's grandiose locution]
All four have jīngcuì 精粹 ("essence") governed by gùzhōng 固中 (whatever that is), which is what you would expect from the structure.
Could it be that they originally intended something like "master the essence of solidity"?  But that doesn't make a whole lot of sense, particularly not for such a florid, pompous statement as this.  Maybe they got carried away with their purple prose and lost track of their train of thought, but were vaguely intending some such vapidity as "inherent essence".
Selected readings
[Thanks to Kiewwoo Goh and Zihan Guo]
---