« previous post | next post »
[This is a guest post by Jichang Lulu]
In "Ornamental Manchu: the lengths to which a forger will go" (LL, April 24), Professor Mair discussed a handscroll with faux-Manchu inscriptions. Although the writing clearly imitated Manchu, the imitation was so liberal and the forger so unfamiliar with the Manchu script that hardly any word was intelligible even to eminent Manjurists consulted for the post.
As a non-Manjurist, I found the text only more puzzling, but was able to identify its model by comparing a a conjectural reading of a non-recurring word in it to a published text of a Manchu translation of the Heart Sutra (Fuchs, Die mandjurischen Druckausgaben des Hsin-ching (Hṛdayasūtra) (non legi), transcribed in Hurvitz, "Two polyglot recensions of the Heart Scripture", J Indian Philos 3:1/2 (1975)). That guess I shared in a comment embedded in the post, elaborated under it with the likely source text. That presumably settled the question, but, with the source given in transliteration only, didn't make it any easier to appreciate the hilarious cavalierness of the copy without an ability to mentally untransliterate it back into the Manchu script.
Professor Kicengge has now compared the text to a Manchu-script rendition of the sutra and composed an image that juxtaposes the copy to its model. The juxtaposition verifies the identification of the source text: not only does the text (very roughly) match, so does its division into columns.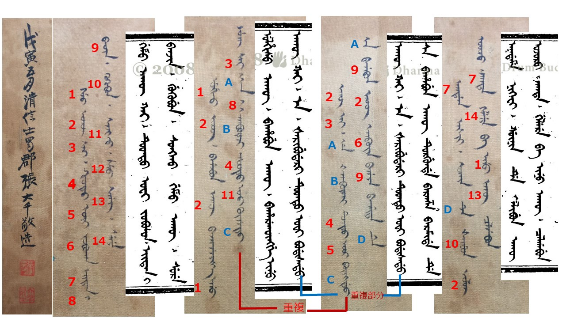 The handscroll's faux Manchu and its model, juxtaposed. Supplied by Kicengge.
Inspecting this image, one doesn't need to read Manchu to enjoy the copyist's carefreedom. Distinctive strokes in the original are omitted or irretrievably transformed. Lines of the text are copied twice, with copies of the same line hardly resembling each other.
It may say something about the state of Manchu letters in the mid-20th century that the forger could safely assume no one would notice. The copy may be compared to the freer end of the spectrum of tattoos discussed, e.g., on this Log (q.v. for samples in Chinese, Tibetan, Chinese again, Sanskrit, Chinese, Latin, Chinese, English and macaronic Anglo-pinyin partyspeak).
For completeness, the transliterated Manchu (omitting the repetitions) follows, with its translation by Hurvitz, the Chinese attributed to Xuanzang, and the Sanskrit (which Nattier argues derives from the Chinese) via Conze.
gemu akū kai. tuttu ofi jobolon. eiten-i banjin. gukubun. songko gemu akū. sure ulhisu akū. bahabun akū. baharakūngge inu akū kai. a. Šaribudari tuttu ofi bodisadu sa bahabun akū turgunde barandza baramida de akdama nikefi. gūnin de dalibun akū ojoro jakade. gelere ba inu akū calgabun
[Emptiness is] without […the extinction of old age and death]. In this way, there is no woe, nor the emergence of it all, nor the suppression of it, nor the Path [leading to that suppression], no gnosis, no acquisition, nor any non-acquisition. O Śāriputra! For that reason, since bodhisattvas have no acquisition, since they dwell in dependence on Prajñāpāramitā, their thought been unobstructed and themselves being without fear, [they have outpassed] wrong…
無[老死盡]。無苦集滅道。無智亦無得。以無所得故。菩提薩埵。依般若波羅蜜多故。心無罣礙。無罣礙故。無有恐怖。[遠離顛倒]夢想。
[…śūnyatāyāṃ…] na [jarāmaraṇakṣayo] na duḥkha-samudaya-nirodha-mārgā na jñānam, na prāptir na-aprāptiḥ. Tasmāc Chāriputra aprāptitvād bodhisattvo prajñāpāramitām āśritya viharaty acittāvaraṇaḥ. cittāvaraṇa-nāstitvād atrasto viparyāsa-[atikrāntaḥ]
[VHM:  Q.E.D.]
Selected readings
---