« previous post | next post »
The following restaurant sign in Uyghur and Chinese was sent in by Fangyi Cheng: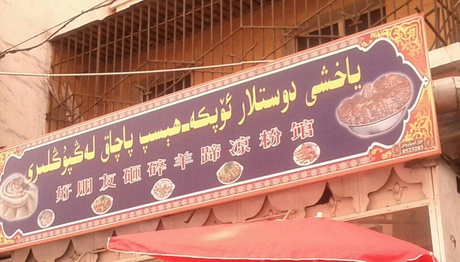 The Uyghur portion is longer, larger, and above the Chinese, so one might suspect that it is the primary language of the sign. Upon analysis, however, we will find that the Chinese version is primary and the Uyghur secondary. Nonetheless, the Chinese portion itself is not without question.
Hǎo péngyǒu zásuì yángtí liángfěn guǎn 好朋友砸碎羊蹄凉粉馆.
Here are some translations proffered by Chinese graduate students:
"Good friend's chopped mutton entrails cold noodle shop"
"Good Friend sheep entrails and hoofs liangfen restaurant"
"My best friend smashed the sheep hoofs and bean noodles restaurant"
Already it is evident that educated readers have difficulty making sense of the Chinese on the sign (and I have received other wildly varying interpretations). So let's see what is causing the Chinese wording not to have a clear and unambiguous meaning.
The easiest parts of the Chinese name of the restaurant to understand are the first three characters and the last three characters: Hǎo péngyǒu … liángfěn guǎn 好朋友 …凉粉馆 ("Good Friends … cold starch noodle restaurant"). It's all the rest in between — zásuì yángtí 砸碎羊蹄 — that causes problems. These four characters seem to say "smashed sheep trotters", but I've never heard of "smashed sheep trotters" going with "cold starch noodles". Furthermore, "smashed sheep trotters" doesn't match the Uyghur version, so one begins to wonder whether something is wrong with zásuì yángtí 砸碎羊蹄.
As a matter of fact, as soon as I saw this sign I immediately suspected that zásuì 砸碎 ("smash; shatter; break into pieces") was a mistake for the homophonous zásuì 杂碎 ("offal; chopped, cooked entrails [of sheep or oxen]; chop suey"). Now, I don't want to get into a discussion of whether "chop suey" is a purely American invention or not (others are welcome to join that battle in the comments if they wish), but — in and of itself and in comparison with the Uyghur version — zásuì yángtí 杂碎羊蹄 ("offal [and] sheep trotters") makes a lot better sense than zásuì yángtí 砸碎羊蹄 ("smashed sheep trotters").
Zásuì 杂碎 simply highlights the mixture of animal organs, and there is no regular ingredient such as sheep's leg or other ground meat implied by that term itself.
Incidentally, if you're wondering what liángfěn 凉粉 (literally, "cold powder", i.e., "cold starch noodle") is, the explanation in this Wikipedia article should be adequate for introductory purposes.
Further evidence that it would be wrong to render zásuì yángtí 砸碎羊蹄 as "smashed sheep trotters" may be found in this review of a Shaanxi restaurant, especially the last line:
…zēngjiāle yángtíer, liángfěn, qiézi hé chóujiǔ jǐ yàng chīshi
…增加了羊蹄儿、凉粉、茄子和稠酒几样吃食
("…introduced to the menu several items such as sheep's trotters, cold starch noodles, eggplant, and thick wine")
We may surmise, therefore, that this is a Shaanxi or other northwestern restaurant that serves chopped entrails, sheep's trotters, and cold starch noodles operating in Xinjiang.
We might hope that the Uyghur version would help us understand better the intent of the owners of the restaurant in advertising their featured dishes. Yet, while the Uyghur does not have an outright error as does the Chinese, it reads awkwardly:
Yaxshi dostlar öpke-hésip pachaq lengpungliri
Literally "Good friends cooked-entrails shank liangfen-pl.", where lengpung is a direct Chinese loan of liángfěn 凉粉
It is interesting that Henry G. Schwarz (An Uyghur-English dictionary) translates pacaq as "leg" or "shank", but pacaq-pacaq as "smashed to pieces," which would fit with the erroneous zásuì 砸碎 of the Chinese.
As so often happens in the Han-dominated urban centers of Xinjiang, Uyghur merely serves as the "eyebrows" (as Uyghur wags would say) for this sign.
Let us (following Arienne Dwyer) count the ways that the Uyghur is secondary to the Chinese:
-yaxshi dostlar ("good friends") is not at all a common collocation in Uyghur, unlike the high-frequency term hǎo péngyǒu 好朋友 ("good friends") in Chinese. A calque.
-While öpke-hésip is a well-formed Turkic binome, juxtaposing it with the otherwise well-formed Turkic pachaq ("shank") without genitive or possessive marking distinguishes it as translatese. Worse, you have actually three juxtaposed nouns, öpke-hésip + pachaq + lengpung, and the possessive marking shows up on the latter noun, indicating that this is a 3 noun compound: "liangfen (made) of entrails and shanks". The diachronic Uyghur corpus that my team is building still isn't large enough to test this reliably, but I would very much doubt finding any 3-noun compounds, and certainly not bare juxtapositions like these.
And then, the final oddity (this one not from Chinese) is that lengpung is pluralized (lengpung+ pl. lAr+ poss. i).
The plural here is ungrammatical in both Uyghur and Chinese, unless it's the extended sense of the Uyghur plural, which is functionally equivalent to Chinese děng 等 ("and the like", i.e., "Good Friends zasui… and other dishes").
Another day of Uyghlese in the big city!
How ironic it is that, just as Uyghur serves as a kind of ornament on Chinese banknotes, so it has become a sort of decoration on Chinese restaurant signs in its homeland!
[Hat tip Fangyi Cheng; thanks to Arienne Dwyer, Gardner Bovingdon, Leopold Eisenlohr, Yakup Mahire, Mandy Chan, Yuanfei Wang, Jing Wen, and s.a.]
---