« previous post | next post »
[This is a guest post by Jichang Lulu.]
Imagine that a certain phrase could be potentially offensive to the authoritarian rulers of a country you would like to do business in. To promote that business, you intend to display images of certain professionals who work for you. One of these professionals has indelibly inscribed the potentially offensive phrase on their belly. The professional activity you wish to promote typically involves barebelliedness.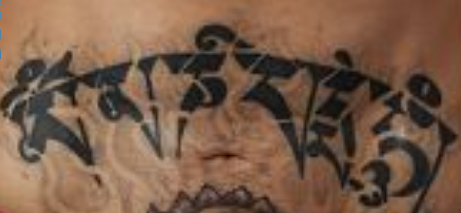 Such was the conundrum faced by Dana White, president of the UFC (Ultimate Fighting Championship), a mixed martial arts (MMA) organisation. The profession was MMA fighter. The country was China. The phrase was in the Tibetan script. The belly belonged to British fighter Dan Hardy.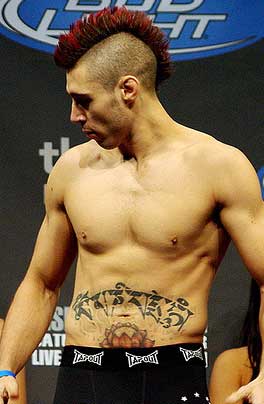 White's way out of the conundrum: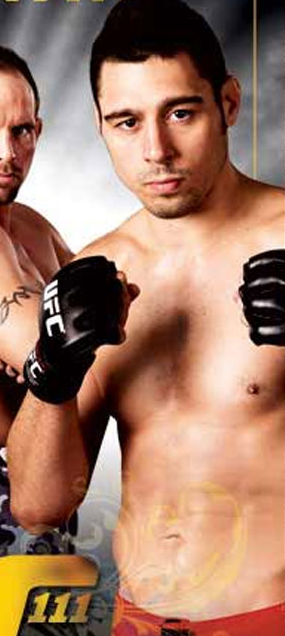 [UFC 111 poster via middleasy]
Photoshop surgery, reportedly involving a transplant from a picture of another fighter.
White's explanation:
"This thing popped up and I heard that it was anti-Chinese government, so I ripped that thing off it. I'm not going to put him on a poster with anti-Chinese government writing on it when we're trying to get into China…. I don't [know] what this stuff means, so I've got to be safe."
By censoring Hardy's belly text (腹文), White was being more Catholic than the Pope. There's nothing 'anti-Chinese government' or political about the text, which is simply the Sanskrit mantra oṃ maṇi padme hūṃ in Tibetan script. Hardy seems quite familiar with its pronunciation and religious significance and an interpretation of its meaning, and there's no suggestion of a political motive.
The mantra isn't forbidden in China, in its Tibetan or Chinese form, pronounced 唵嘛呢叭咪吽 ǎn má ní bā mī hōng (among other variants).
As if that didn't make it obvious enough that the mantra isn't off-limits in China, two weeks before the fight, while UFC were busy airbrushing the tattoo off of Hardy's stomach, popular Mainland website Sohu 搜狐 published an article with multiple pictures of him, mantra and all.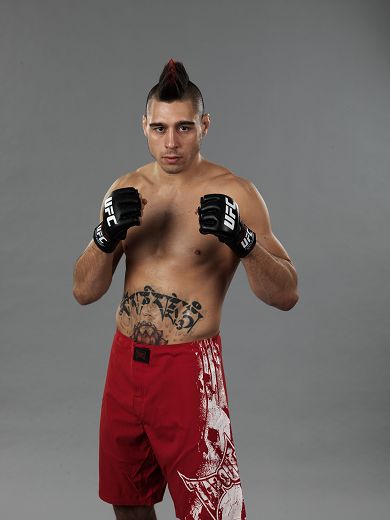 This is old news (indeed seven years old), although I was only alerted to it today by this post's host. It is quite topical though, a week after a similar incident. This time, the China-savvy business is Cambridge University Press; the inscribed surface is China Quarterly; the censored text is that of hundreds of articles deemed too politically sensitive to be made available in China. CUP willingly "complied" with an "instruction from a Chinese import agency" and blocked access to the articles from China, "to ensure that other academic and educational materials" could still be marketed there. CUP's best-selling item in China is an English-language course book.
CUP did promise to raise the matter with the "relevant agencies" (Oxbridge for 'the Relevant Departments' (有关部门 yǒuguān bùmén)) at the Beijing Book Fair, an event that made news when Western publishers in attendance openly discussed how they self-censor to stay in China. CUP eventually volte-faced, but the long-term trend clearly favours censorship and frequent CUPping. Some academics aren't going to generate more profit than English materials with a heraldicky logo on them. As I argued in a recent blog post, authors who can't trust CUP not to draw-and-quarter China Quarterly next time it displeases some authoritarian regime might want to consider doing to CUP what Lingua did to Elsevier.
A Sanskrit tattoo has been discussed on Language Log before, namely the one on Hong Kong politician Yau Wai-ching 游蕙祯. Yau continued to make language-related news thanks to her peculiar word choice in Cantonese and English. Hong Kong's legislature, only some of whose members are elected by the population at large, later kicked her out.
For an explicitly political Tibetan MMA tattoo, you need to look at Wangden Namshi དབང་ལྡན་རྣམ་ཞི།.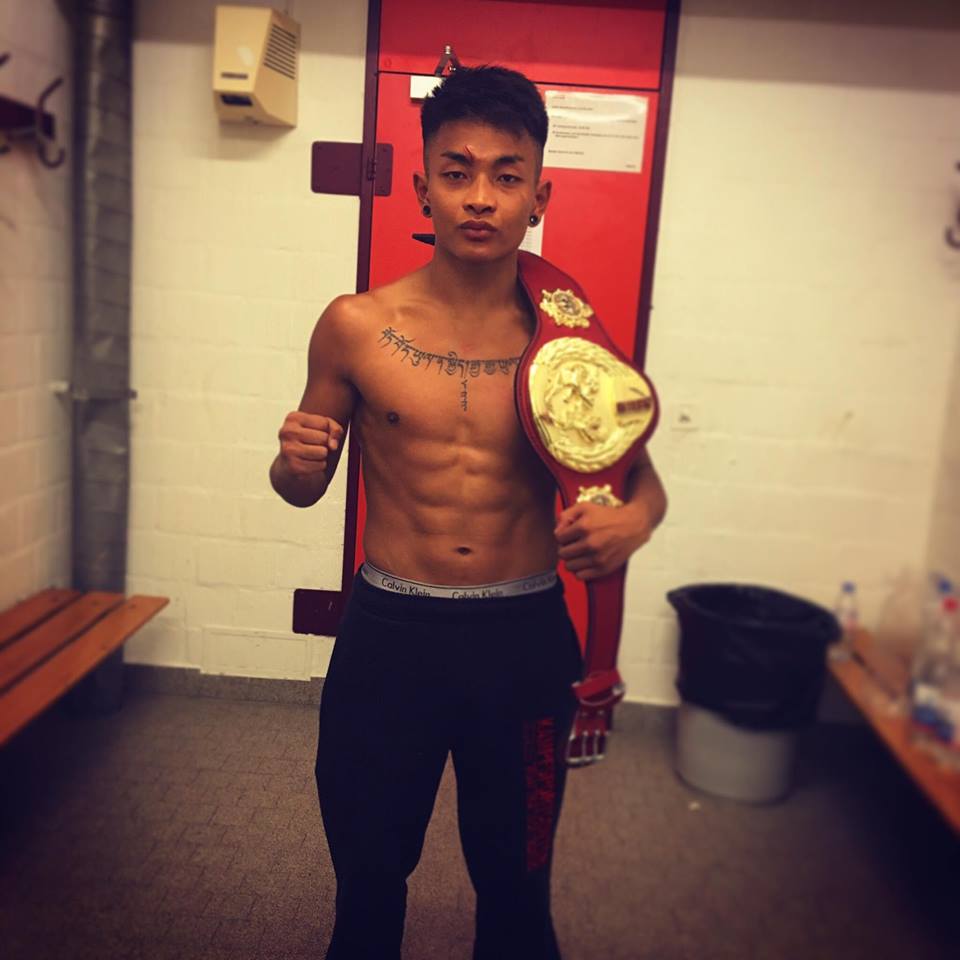 Wangden Namshi via Tibet Express
He trains (or used to) at the bilingually-named Kampfsportcenter St. Gallen. Here's Wangden fighting, and here's a video (in Tibetan and English) with him getting tattooed.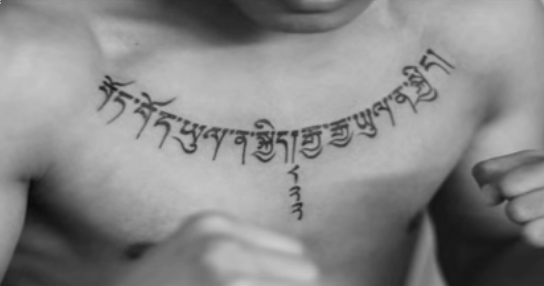 Wangden's tattoo reads:
བོད་བོད་ཡུལ་ན་སྐྱིད། རྒྱ་རྒྱ་ཡུལ་ན་སྐྱིད།
bod bod yul na skyid / rgya rgya yul na skyid
'The Tibetans [will be] happy in Tibet; the Chinese [will be] happy in China.'
This is a quotation from the 9th-century Sino-Tibetan treaty stele 唐蕃会盟碑 Táng-Fān huì méng bēi (still standing outside the Jokhang in Lhasa). Many Tibetans cite it as proof that Tibet and the Tang interacted as independent polities. Official PRC materials also often mention the inscription, although they put a different spin on it.
Here's the relevant Chinese text on the stele:
蕃於蕃國受安漢亦漢國受樂
Fān yú Fān guó shòu ān, Hàn yì Hàn guó shòu lè.
Here the Chinese (Hàn) get happiness in the Han country, while the Tibetans (Fān) get just 'peace' in the Fan country.
---