« previous post | next post »
Cindy, who works in my favorite barber shop next to the Penn campus, has the following symbols tattooed on her back: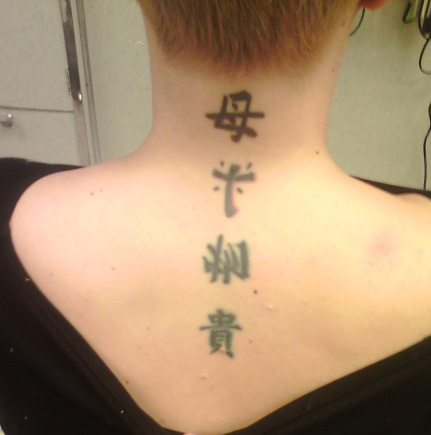 I instantly recognized the first and last as two quite well-formed Chinese characters.  After two or three seconds of puzzling, I realized that the third symbol is another Chinese character written upside down and backwards (how the tattoo artist achieved that is a bit of a mystery, especially since he / she got the first and fourth one in their correct orientation).  The second character was more refractory.
I told Cindy that I recognized the top character as meaning "mother" and the bottom one as meaning "expensive, noble, honored, distinguished, valuable".  I also told her that the third one meant "thing, matter".  Since the second symbol didn't even look like a Chinese character — it seemed to be some sort of cross, although I thought it also might be a highly stylized form of a Chinese character meaning "child" — I wasn't certain what sentiment all four symbols taken together were meant to convey.
So I asked Cindy what she thought the tattooed symbols running down her neck and spine meant.  She replied:
The bottom two were supposed to be success… then respect.
Oh well.  Works either way.  It is what it is.  You can put whatever name you want.
Queen OF The World is what I prefer.
I followed up by asking Cindy what she thought the second, very unusual, symbol meant.  She said, "Oh, that's just a cross for Jesus."
Tentatively, this is what I had to work with:
1. mǔ 母 ("mother")
2. zǐ 子 ("child"), or perhaps some kind of cross
3. wù 物 ("thing, object")
4. guì 贵 ("precious; expensive")
With considerable effort, I could get that to mean "Mother and child are precious things."  But I was not satisfied with this interpretation, both because of my uncertainty over the second symbol and because it required me to accept a strained interpretation of the final two characters.
I then approached Imre Galambos, who is both an authority on Chinese tattoos and on ancient forms of Chinese writing.  Imre's response:
Considering that 物 is upside down, I think the second symbol could be the character 必 in the clerical script, slightly rotated. Then the meaning is also something about a mother having to be valued, although probably pieced together by the tattoo "artist" from separate characters using English grammar. But this is obviously just a guess.
Imre suspected that the second symbol might be an early form of bì 必 ("must"), in which case — allowing for distorted syntax — we might be able to render the string of characters as "A mother should be considered something precious."  But what if the second character really is "a cross for Jesus"?  That might possibly yield "The mother of Jesus is something precious."
In the end, I think that Cindy put it best:  "It is what it is."
---