« previous post | next post »
A few days ago, MikeTheDudeHenry posted a picture of his first tattoo on Reddit's /r/tattoos discussion board, with the explanation "Cemel Dosce = latin for 'Know Thyself'":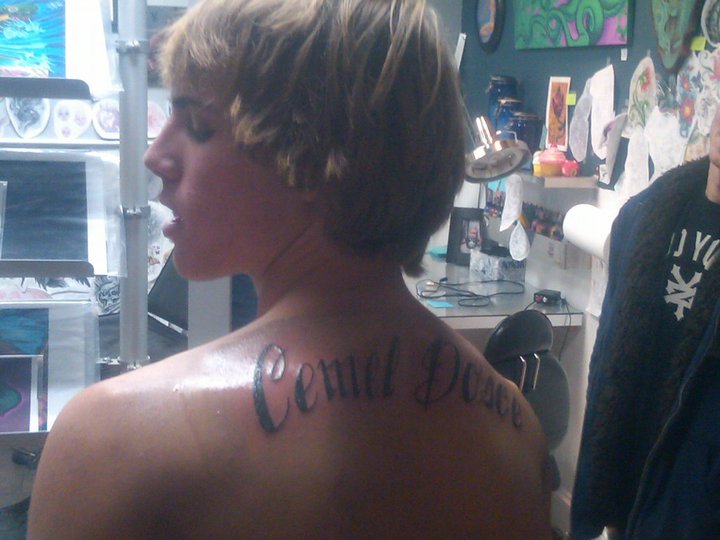 After some web search, archigenes traced the phrase back to this scene in The Matrix:
Following up, thenatman explained:
"nosce te ipsum" is the Latin translation typically given for this phrase, which is in fact originally from the Greek "γνῶθι σεαυτόν" .
The above-linked clip from the matrix illustrates the likely origin of this phrase
This placard, critically written in Blackletter font, says "temet nosce", their chosen translation for this phrase.
Notably, even this seems incorrect, or at least non-standard, as the typical intensified second-person singular is "tutemet" .

Looking at this graphic, however, the whole thing suddenly begins to make sense : because of the Gothic lettering, someone misread the sign…the ornate T became a C, the l became another t, and the N became a D.

It is unlikely that it was OP himself who did this misreading. In fact, there are 3,460 results for this phrase as well as at least one other tattoo based on this misreading.
[Tip of the hat to Nat Hillard]
Update — as various commenters explain below, "temet nosce" is perfectly cromulent Latin for "know thyself", although temet is a post-classical form. Contrary to what thenatman says in the quote above, tutemet would not be correct in this context, since it's a nominative form; tetemet would work, but is rare at best.
---