« previous post | next post »
On a very interesting and informative blog called "This is Xinjiang", we find the following sign over the entrance to an Ürümchi restaurant: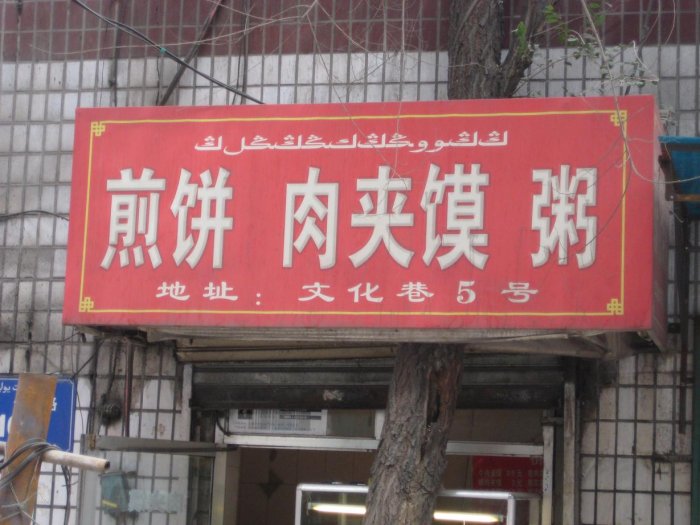 The blogger, an anonymous "foreign university teacher in China's western frontier", captions the photograph thus:
The diverse number of scripts found on Xinjiang signs — Arabic, Chinese, Mongolian, and Russian — often present a bewildering challenge to Westerners who are used to the Latin alphabet. Here, no one writes English in public places. But Xinjiang's multilingualism can even mislead the locals. For example, this restaurant, located in downtown Urumqi, advertises "Pancakes, Hamburgers, Porridge" in Chinese characters. Unfortunately, the Uyghur "translation" written above that is: ngngoongngkngngnglng.
Who's pulling whose leg?  It is evident that, in this case, the "Uyghur" language written in Arabic script is there for purely decorative purposes, reminiscent of the mirror-reversed Chinese characters in a New Yorker ad sponsored by the Massachusetts Office of Travel and Tourism that I wrote about here, or the Hong Kong strip-club flyer used to decorate the cover of a China-themed issue of MaxPlanckForschung.
My guess is that even someone who doesn't know Arabic script or Uyghur language would be suspicious of the numerous repetitions of just a few letters.
Such signage is supposed to be supervised by the official Working Comittee for the Languages and Scripts of Minority Nationalities (少数民 族语言文字工作委员会 Az sanliq milletler til-yeziq xizmet komiteti).
And this is another way to "read" the Uyghur letters: ng_ng_o_o_ng_ ng_k_ng_ng_ ng_lng.  Try it without choking!
---