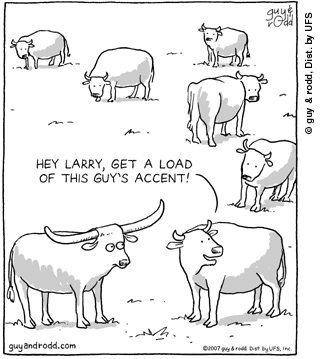 Kat Chow, "Make It So: Sir Patrick Stewart Moos In Udder Accents", NPR Code Switch ("Frontiers of Race, Culture and Ethnicity") 12/30/2013:
Cow-d it really be? Have our ears herd this correctly? (Sorry, I can't help myself.)
Patrick Stewart — ahem, Sir Patrick Stewart — mooed up a storm on the podcast, How To Do Everything, impersonating cows from various regions. You might even say Stewart was code-switching.
A listener who says she moos with "kind of an American, Nevadan accent" posed the question: Just how would a person moo in a British accent? (And, by the way, it's true: cows do moo in regional accents.)