« previous post | next post »
This morning I received this card from a friend: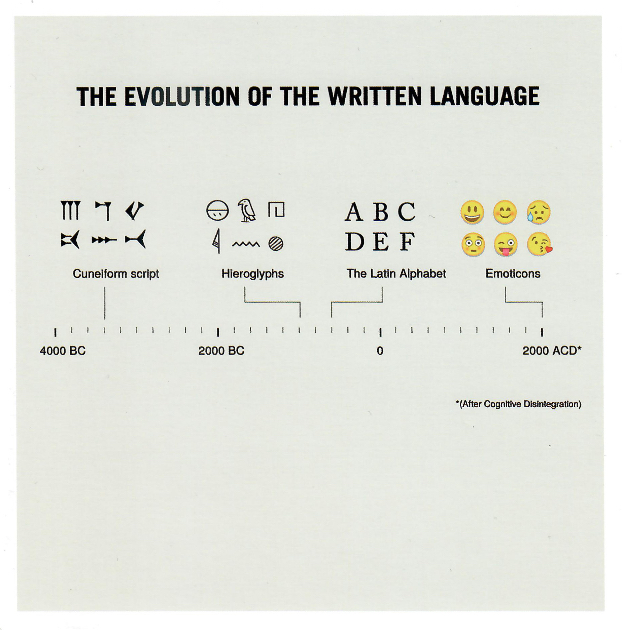 My friend attached the following note:  "Many a true word spoken / written in jest!"
Yet it is not entirely a joke, since I have received many communications that consist solely or largely of emoticons.  And when I glance at what others are reading and writing on their phones, it's full of emoticons.  Of course, emojis, emoticons, image macros, and the like are not enough for the full expression of language, but I do wonder if we are not headed in the direction of sound / thought bites occupying more and more of our discourse, including, of course, the proliferation of Twitterese.
Just as I was about to make this post, I received the following e-mail:
"It's always good to verbalize. 😂"
Readings
"The prehistory of emoticons" (9/21/07)
"Emoticons as skin care" (1/26/09)
"'Facial expressions' in text-dominant online conversation" (8/2/16)
"Emoji in Chinese music video lyric" (6/19/19)
"A trilingual, biscriptal note (with emoji)" (2/5/17)
"Chinese emoji, with a twist" (5/23/17)
"CCP approved image macros" (12/17/17)
"Is there a practical limit to how much can fit in Unicode?" (10/27/17)
"Unicode: The brontosaurus emoji" (8/29/16)
"I don't feel OK" (12/27/18)
"C'est la vie ~" (11/15/11)
"Keep on -inging" (10/30/17)
" The MaxPlanckForschung Cover Fiasco: How It Happened" (1/3/09)
"A New Morpheme in Mandarin" (4/26/11)
"Creeping Romanization in Chinese, part 3" (11/25/18)
"Justin Bieber OK infix" (2/13/18)
---