« previous post | next post »
Yesterday's Zits: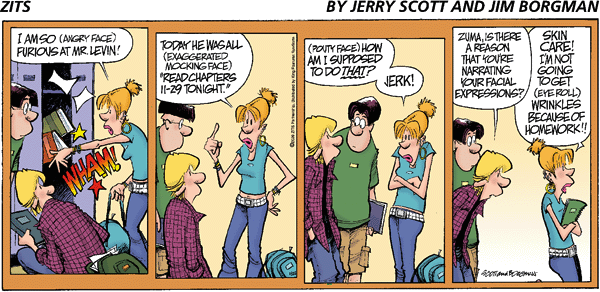 The strip takes it for granted than emoticons are a sort of transcription of facial expression, rather than indications of the attitude that the writer wants to project, via icons of stereotypical facial expressions. Whether or not it would cause wrinkles, this information is missing from written forms of language, since the projection of attitude in speech lacks the intersubjective constancy that makes the identification and transcription of word sequences possible.
Although emoticons were suggested in a primitive form by Ambrose Bierce in 1877, in the form of "the snigger point, or note of cachinnation", the full development didn't take place until the expansion of various forms of mass electronic communication, during the two decades following Scott Fahlman's 1982 BB post (see "The prehistory of emoticons", 9/21/2007).
Curiously, this is almost exactly the same time period as the development of the scientific version of the emoticon, namely the Facial Action Coding System — the first version came out in 1976, and the current version was published in 2002.
Now that FACS analysis is on national television every week, it's reasonable to wonder whether emoticons might see a new period of development, in a more abstract direction, leading to something less like icons of stereotypical faces and more like the multidimensional analysis of FACS. I doubt it — as I suggested above, emoticons are not really a transcription of facial expressions, but rather a set of emergent conventions for communicating attitudes.
The history of Paul Ekman's work on facial expressions is an interesting study in intellectual politics, sketched in two earlier LL posts: Political correctness, biology and culture and The cabinet of Dr. Birdwhistell.
---