« previous post | next post »
Message in a store window @ 826 Valencia, San Francisco: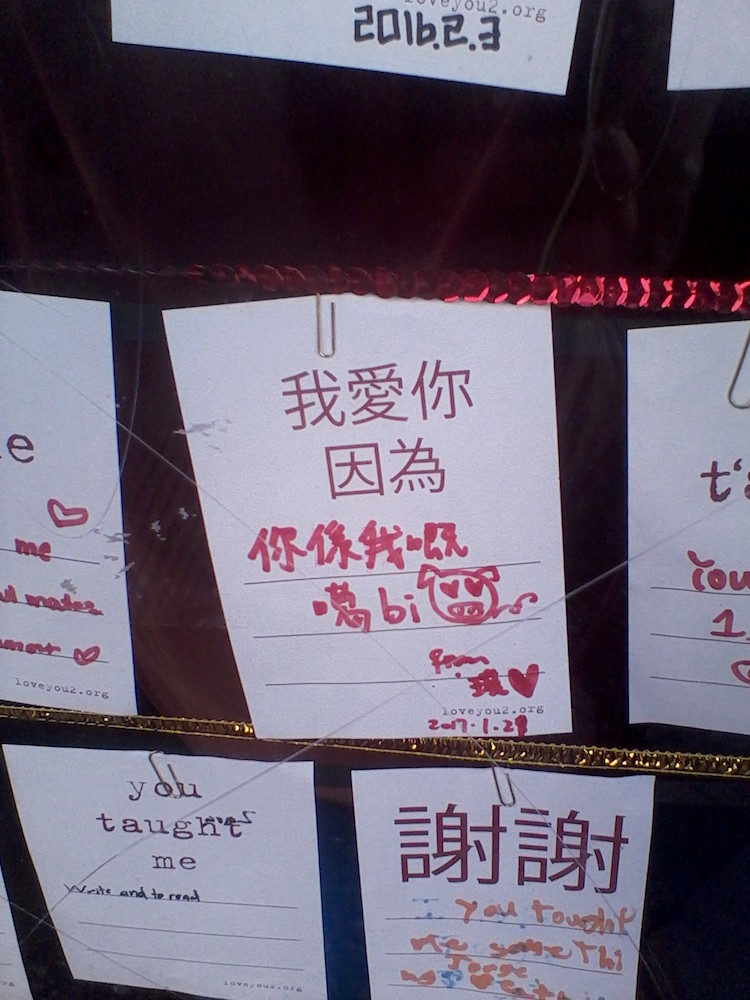 The note begins straightforwardly with Mandarin:
wǒ ài nǐ yīnwèi 我愛你因為 ("I love you because")
But then it shifts into a kind of Cantonese-Mandarin hybrid, or so I thought.
nei5 hai6 ngo5 ge3 你係我嘅 is Cantonese for "you are my".
They write the second syllable of the word beginning with gá 噶 in Roman letters as "bi".  So far as I know, gá 噶 has no meaning, but is used only for purposes of transcription, especially of Tibetan words.  So I thought that perhaps they were trying to say the Mandarin word for "next-door neighbor", viz., gébì 隔壁, but perhaps had forgotten how to write both the characters or wanted it to sound more Cantonesey.  But Abraham Chan pointed out:
I suppose that's a nickname: 'bi' stands for baby. It is very common in Hong Kong to refer to your loved one, whether a lover or a kid, as zyu1 豬 (a pig). Bi Bi zyu1 豬 is just a more emphatic way to say that. I suppose the gaa1 噶 is part of a personal name.
That is followed by a clever emoji-style pictograph (which looks like a cross between 🐷 and 😍, the "pig face" and "heart eyes" emojis), then the English word "From", a single character for the name of the person who wrote the message, a heart, the name of the facilitating organization (loveyou2.org), and the date in Hindu-Arabic numerals on the last line.
Here are some pertinent, revealing remarks on how to say "neighbor" in Cantonese and related topics by Judy Weng, whom I'm pleased to have do her recitations of Literary Sinitic / Classical Chinese in Cantonese in my class:
I know of a few ways my family in Hong Kong and toi4 saan1 台山 (i.e., Hoisan) say "neighbor", and they are:
鄰

居 /

邻

居 (leon4 geoi1)

I would say this is the more formal way to say "neighbor" and I don't hear it as much. It could also be because people from 台山 don't say it as much and my family generally does not speak formal Cantonese unless we're at a fancy family dinner with "relatives" that we don't really know.

隔籬鄰舍 / 隔籬邻舍 (gaak3 lei4 leon4 se3) (technically this refers to all the people who live within a close proximity)

This is the most common way I hear people in Philadelphia, 台山, and Hong Kong refer to neighhor and if I'm right, this is only in Cantonese and not used in Mandarin

隔離 (gaak3 lei4)

This technically means separated, but it's also used to refer to neighbors. It could be as a shortened version of (2), but I hear it used like so: 住隔離嘅…, which translates literally to "those who live separated", but is understood as "those who live next door"
I didn't get a chance to ask my family why they think they (or others) would write it this way, but I know it's very common for the younger generation to mix some Mandarin into their Cantonese sentences sometimes (even in Hoisanwa 台山话), not because they do not know how to say it in their own topolect or Cantonese, but just because it sounds funnier or (according to my cousins) cooler. A lot of times when I get text messages from my cousins there are Roman letters mixed in because it's easier to type that than to type in Cantonese and find the right character. "Bi" is universally easy to understand and even for some parents (like mine) who do not speak fluent Cantonese tend to be able to sound out. Out of habit, they would also write small quick notes to their parents the same way. Obviously, I'm not sure if this is applicable to all Cantonese speakers, but this is what I've seen from my family.
I hope this was helpful. For the pronunciations, I used the online dictionary http://ykyi.net/index.php.
In addition to the three terms for "neighbor" that Judy notes, I also found the following one on CantoDict:
gaak3 leon4 隔鄰
The latter three Cantonese terms for "neighbor" are not used in Mandarin.
[Thanks to Chas Belov]
---