« previous post | next post »
Today's xkcd: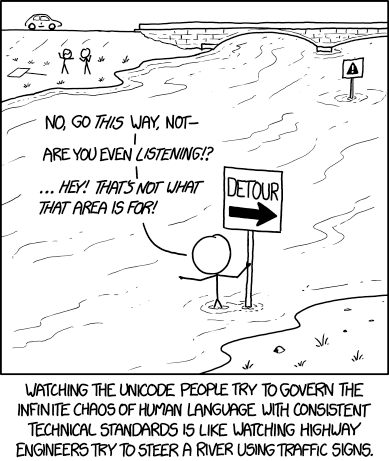 Mouseover title: "I'm excited about the proposal to add a 'brontosaurus' emoji codepoint because it has the potential to bring together a half-dozen different groups of pedantic people into a single glorious internet argument."
At least things have gotten better, now that browsers and text editors and terminal emulators have sort of started to more or less implement the Unicode standard. Some dispatches from the bad (or anyhow worse) old days:
"Strange scrambling alphabets", 12/14/2003
"Them old diacritical blues again", 3/21/2004
"Convenience for the wealthy, virtue for the poor", 3/31/2004
"Agbègbè ìpàkíyèsí", 12/15/2008
"It's worse than you thought", 11/21/2012
And an antique unicode-related xkcd:

Mouseover title: "U+FDD0 is actually Unicode for the eye of the basilisk, though for safety reasons no font actually renders it."
---