« previous post | next post »
Michaela Winberg, "Sonic Devices Target Teenagers In Philadelphia", NPR 7/5/2019:
WINBERG: If you look at the rec center building at Philadelphia's East Poplar Playground, you'll see a small beige speaker screwed into the wall. Every night at 10 p.m., that tiny speaker activates. And for eight hours, it plays nonstop. Here's what it sounds like.
(SOUNDBITE OF STATIC)
WINBERG: Didn't hear anything? If so, it's likely you are not between the ages of 13 and 25. That's the age group this sound is targeted toward. As we age, some of the cells in our ears start to die off. So when we get older, we have trouble hearing higher-frequency noises like the one that this device plays.
Philadelphia resident Lamar Reed is 17, and he hears the noise loud and clear.
LAMAR REED: It's so loud. Like, it can – like, what if it damages our ears or anything like – something like that?
WINBERG: It's called the Mosquito, and it's an acoustic deterrent device, technology used to keep humans or animals away from a designated area. It's usually used by law enforcement or the military. The Mosquito was manufactured by Vancouver-based Moving Sound Technologies. Michael Gibson is the company's president and says he has worked with about 20 parks departments in cities around the country to install his devices.
Here's a clip including the "soundbite of static":
And of course it's not like "static" at all (which M-W defines as "noise produced in a radio or television receiver by atmospheric or various natural or man-made electrical disturbances", and sounds something like this), but rather a pure tone at 15 kHz: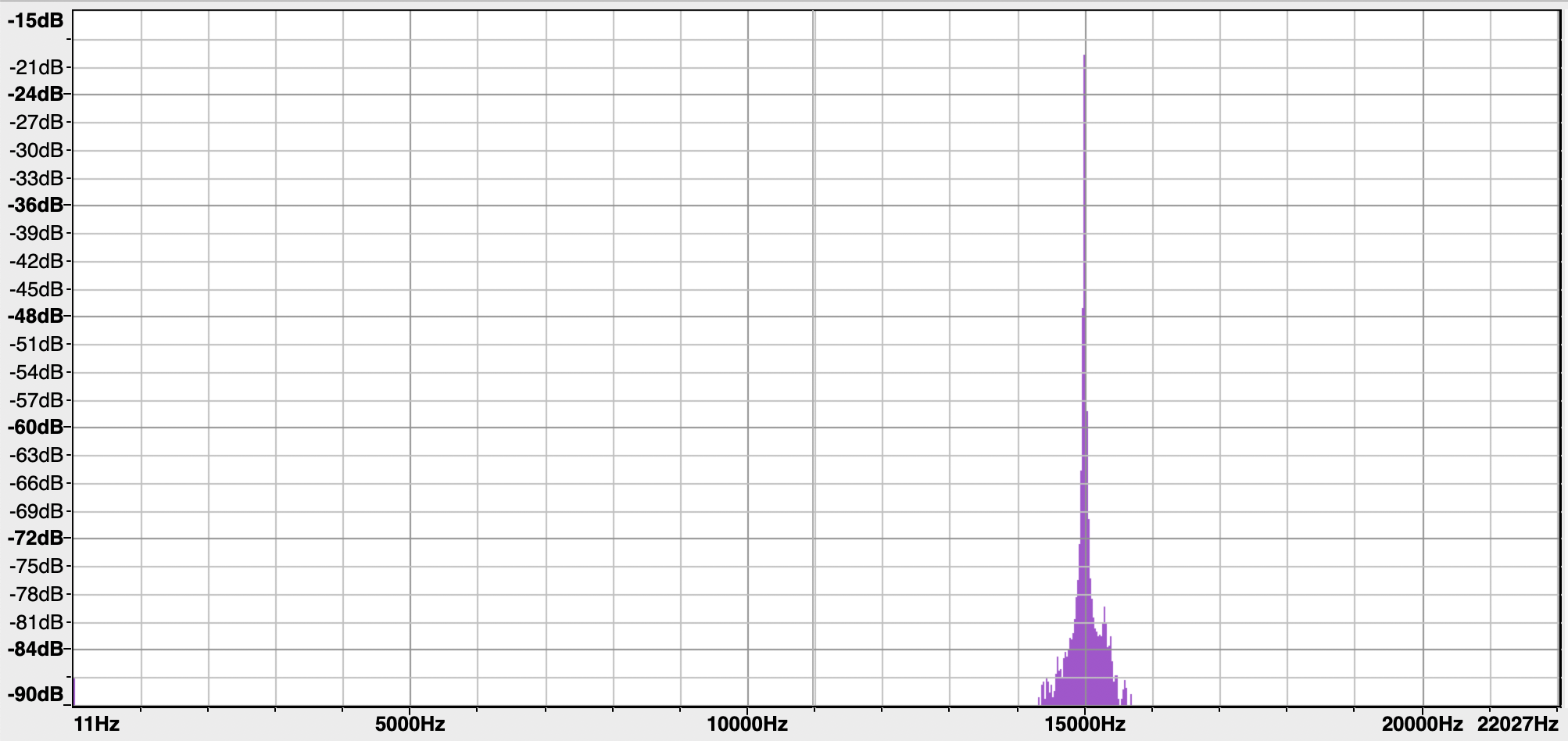 (Though maybe there's an extended meaning in radio-land, something like "anything that's not speech or music"?)
Anyhow, Lamar Reed's comment is right on target, because one of the main reasons that "As we age, some of the cells in our ears start to die off" is that our ears are damaged by noise exposure.
The Facebook comments are also interesting, suggesting that some people older than 25 can also hear these sounds:
In my 30s, and I heard it. Randomly proud of my ears. They also have this sound at the grocery store to keep birds from nesting. I just try to get inside as quickly as I can.
I'm 47 and hear it clearly as an awful high pitched irritant! And from the comments, it's obvious that many people of varying ages hear the sound; it is not isolated to young ears! What about the insects, birds and animals that rely on their senses as well as park space in urban environments? I don't understand how this has passed environmental impact evaluation :(
I'm 38 and I heard it! Yay for good hearing.
---