John F. Banzhaf III writes to complain about overuse of "multiple":
Over the past six months I have heard an ever-growing number of TV news anchors, reporters, and talking heads on television use the word "multiple" where "many" – a shorter and less pretentious word – would do as well, if not better.
I would suggest that your remind people not to use the word "multiple" when many is what is meant, or is at least as good.  Otherwise, the speaks sounds pretentious and perhaps pompous.  A quick guide as to when to use each word would also be helpful to many of your readers.
This is not something that I've noticed, though perhaps I don't listen closely enough to enough talking heads.  It does seem to be true that the use of multiple has increased fairly steadily over the past century and a half, from nearly nothing to a rate in the range of 60 to 80 per million words: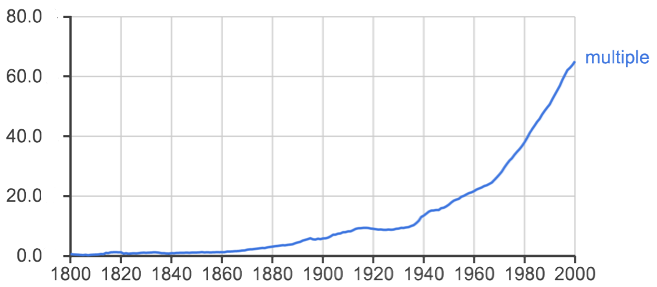 (I've used multiplication by 10,000 to turn the Google ngram viewer's uninterpretable percentages on the vertical axis into rates per million words…)
Read the rest of this entry »