« previous post | next post »
Oxford University Press has published the fourth edition of Fowler's Dictionary of Modern English Usage. The name "Fowler" has been retained as a source of prestige, but this is really the work of editor Jeremy Butterfield (as the third edition was the work of Robert Burchfield). Butterfield has already been getting some press attention for some of his more curmudgeonly reactions to points of modern usage. From The Times (UK), "Modern language makes dictionary compiler see, like, red" (3/31/15):
Readers fretful about crumbling standards will be relieved, and possibly amused, that the compiler of the latest edition of Fowler's Dictionary of Modern English Usage has admitted to being overcome by grumpiness at some of the 250 new entries.
Jeremy Butterfield said that he was unable to hide his disdain while writing entries such as "awesome", "challenging" and "issue" – all of which are classified as clichés. So annoyed was he by the use of "like" as verbal punctuation that he suggested violence may be an appropriate response.
Ooh, violence! Looks like it's the latest episode of word rage.
But is Butterfield really "suggesting violence may be an appropriate response" to the use of like as a discourse particle? Here's how The Times quotes the entry:
The entry notes that "many people below the age of, say, 25 – or rather more if they are American – seem incapable of constructing a single affirmative sentence without at least one 'like' in it".
"Overuse will cause listeners outside the speaker's immediate social circle, wider social group or age cohort to ignore the content of the message, to assume that the speaker is little short of brain-dead, or, in extreme cases, to wish they had a discreet firearm to hand," he added.
Mildly expressing a wish that one had a discreet firearm isn't exactly the same as encouraging violence. But that didn't stop the Daily Mail from sensationalizing the story even further, including this as a subhead in their rehash of the Times article:
Says that anyone who says 'like' deserves a violent reaction
Now I'm starting to get concerned that if there really is a like-induced incident of gun violence in the UK, Mr. Butterfield may be hauled into court, where he'll have to take the blame for inciting the act. In the past, hip-hop and video games have been scapegoated for provoking violence. Turns out usage guides are the real culprits!
Here is the relevant section of the like entry, courtesy of Google Books.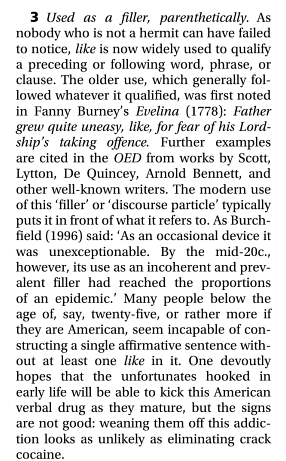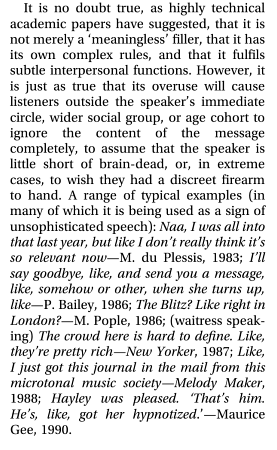 (For past posts on word aversion and word rage, see the list at the end of this post.)
---