« previous post | next post »
John F. Banzhaf III writes to complain about overuse of "multiple":
Over the past six months I have heard an ever-growing number of TV news anchors, reporters, and talking heads on television use the word "multiple" where "many" – a shorter and less pretentious word – would do as well, if not better.
I would suggest that your remind people not to use the word "multiple" when many is what is meant, or is at least as good.  Otherwise, the speaks sounds pretentious and perhaps pompous.  A quick guide as to when to use each word would also be helpful to many of your readers.
This is not something that I've noticed, though perhaps I don't listen closely enough to enough talking heads.  It does seem to be true that the use of multiple has increased fairly steadily over the past century and a half, from nearly nothing to a rate in the range of 60 to 80 per million words: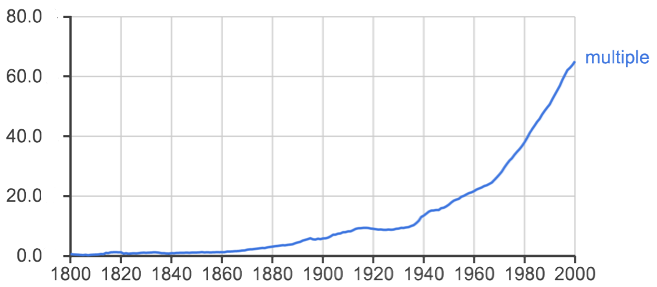 (I've used multiplication by 10,000 to turn the Google ngram viewer's uninterpretable percentages on the vertical axis into rates per million words…)
And a search in the COCA corpus confirms an increase continuing over the past 25 years or so: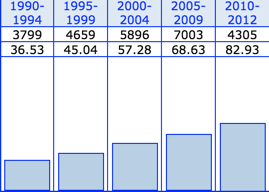 It's also clear from the usage patterns across genres that multiple is a relatively fancy or formal word, almost five times as common in academic writing as in newspaper text:
| | | |
| --- | --- | --- |
| MULTIPLE | | MANY |
| | | |
Logically, the secular trend towards increasing multiple usage could have one or more of several causes:
Whatever multiple refers to in general (call it "multiplicity") is something that people are increasingly interested in talking and writing about;
People are becoming more academic, formal or pretentious in their speech and writing;
The academic or formal character of the word multiple is gradually being bleached away, so that people tend to use it in a wider range of contexts;
The effective meaning of multiple in general usage is gradually shifting, so that it takes up more and more "mouth space" from alternatives like many, several, or numerous.
Memetic drift (i.e. fashion) is increasing the frequency of multiple for no particular reason;
Multi-word terms involving multiple have been invented and/or have increased in frequency.
Number 1 (increasing interest in multiplicity) seems unlikely, and number 2 (increasing formality) is clearly false. So we're left with number 3 (bleaching of register), number 4 (shifting connotation), and number 5 (memetic drift), which in cases like this can plausibly be seen as three different aspects of the same process; and number 6 (terminology), which is certainly true (e.g. multiple integral (1841), multiple sclerosis (1877), multiple personality (1886), multiple myeloma (1897), multiple regression (1908), multiple choice (1915), multiple exposure (1916) multiple intelligences (1983), etc.)
It seems to me that the core difference in meaning between multiple and many arises from the fact that multiple is in implicit opposition to single, while many is in opposition to few (which is still plural, and indeed more than two). So "a few gunshots" could still be described as "multiple gunshots", and "a few problems" could still be described as "multiple problems".
There are also several morpho-syntactic differences, including the fact that multiple is often used with a singular head noun, and many is used in constructions like "many a man". [Update: James points out in the comments that <i>multiple</i> is also starting to slip into the construction "multiple of X", by analogy to "many of X", "several of X", etc.]
Prof. Banzhaf suggests that multiple should involve repetition of events in a short time period:
To me, as a humble law professor who is no linguist, it seems that "multiple" implies – and may even mean – that something has occurred substantially more than once over a relatively short period of time: e.g., "multiple gun shots were heard,"  "multiple rescue attempts were made,"  In such situations, "multiple" seems better to use than "many."  
On the other hand, I would say that there have been many (not "multiple") revolutions in France, that many (not "multiple") explorers tried to find an alternative route to India, etc. – even though there has been repetition over time.  
Very clearly, where there is no reference to time, it seems that "many" is almost always correct. and "multiple" is always incorrect. For example, there are many coins in my pocket, many students in my law class, many books in my office library, etc.
I don't think that events and time periods are necessarily involved at all. Thus multiple regression involves predicting the value of a variable as a function of the values of two or more other variables, with no events separated in time for the multiple predictors. The theory of multiple intelligences divides the concept of intelligence into multiple abilities that are simultaneously present in a given individual. Multiple organ dysfunction syndrome involves simultaneous altered function in two or more organ systems.
But looking at hits for multiple in the current Google News index, I don't see any cases of the sort that annoy Prof. Banzhaf, where many would have been a better choice and multiple seems to be just a "pretentious" substitute. Perhaps some readers can suggest better ways to find such examples, and to determine whether their frequency is increasing.
(I do see lots of references to multiple-vehicle crashes, which might actually be evidence for a factor of type 1 in my list, namely a reason for people to be increasingly interested in talking and writing about multiplicity.)
---