« previous post | next post »
Photo taken outside a casino in Tainan, Taiwan: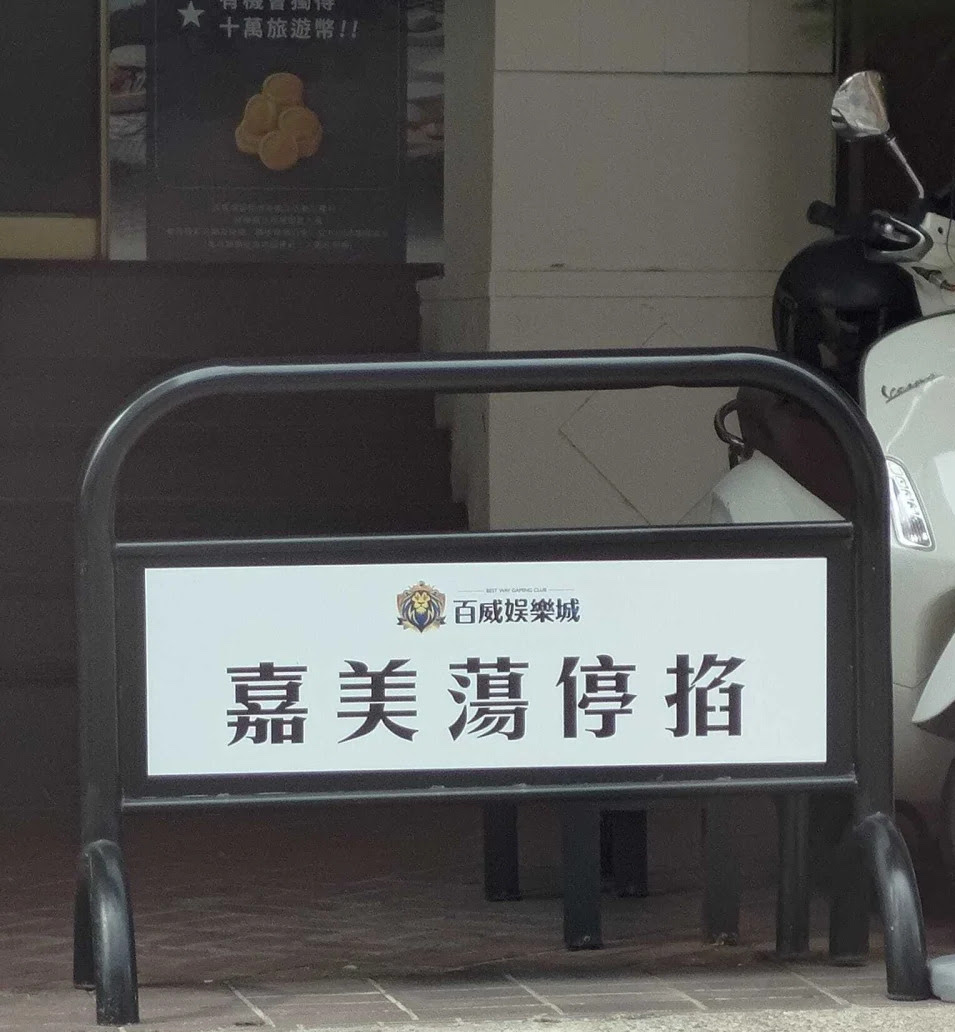 If you were a monolingual Mandarin speaker and tried to read this sign in your language, even though it looks like it is in "Chinese", it would be a meaningless mishmash:
jiā měi dàng tíng qiā
嘉美蕩停掐
"excellent beauty swing / sway stop / park pinch"
Right up front, I will tell you that there are two schools of thought about this way of writing Taiwanese with Chinese characters:  pro and con (for the details of which see below).
What the sign really says, using the Sinographs to transcribe Taiwanese sounds, except for the fourth one, which also conveys meaning, is this:
Word-for-word explanations:
Basic rule: the hanzi are read in Mandarin, then use the sounds to jump to Taiwanese equivalent sounds, and match them to words of the same sounds with the intended meanings.
嘉 = MSM ㄐㄧㄚ/ jiā (in sound =) Tw [chia] 'here' 這裡
美 = MSM ㄇㄟˇ / mĕi (after de-nasalization > *bĕi) > approx. bē = Tw [bōe / bē] 'may not' 不能 / 不可 (N.B. This word, bōe, is a contracture of bô + ōe/ē, and is often written as [勿 + 會].)
蕩 = MSM ㄉㄤˋ / dàng = Tw [tàng] 'allowed, permitted' 當 (Thus, 美蕩 = MSM 不應當)
停 = MSM 停 ㄊㄧㄥˊ / tíng = Tw thêng
掐 = MSM ㄑㄧㄚ / qiā (in sound =) Tw [chhia] 'car' 車
Therefore, the "no parking" sign goes as follows:
嘉美蕩停掐
jiā mĕi dàng tíng qiā
chia bē tàng thêng chhia
'Here not allowed (to) park car(s)'
Regarding the two sides of arguments 兩派討論:
The Pros –
This kind of language is eye-catching, causing a double take in people who would stop and think about the content of the warning. The premise is that no one would pay attention to the normal sign,「禁止停車」.
The Cons –
A public sign should be understandable to all people.  What if people who don't know Taiwanese read the convoluted sign, it's useless to them. They would just park their cars here.
(courtesy of Chau Wu)
You pays your money and you takes your choice.
Selected readings
[Thanks to Mark Swofford]
---