« previous post | next post »
In the lull between Christmas and New Year's Day, I read the droll news of a special parking lot for women in the city of Shijiazhuang, Hebei Province, with spaces a meter wider than normal and painted in pink and light purple "to appeal to female tastes."
Today, Nathan Hopson sent me an article from Le Monde that shows pictures of this wondrous parking lot, leaving me even more in awe of the lengths to which the proprietors have gone to satisfy their customers: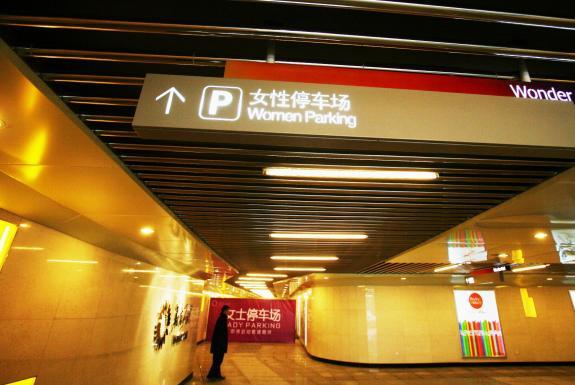 The overhead sign reads nü3xing4 ting2che1chang3 女性停車場 ("female / women's parking lot"), rendered in English as "Women Parking."
Beneath that sign is another which attempts to be even more elegant: nü3shi4 ting2che1chang3 女士停車場 ("ladies parking lot"), rendered in English as "Lady Parking."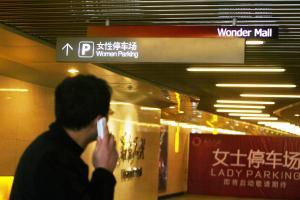 This Lady Parking area is located in a glitzy shopping center called the "Wonder Mall". It is truly a lavish establishment, with all the right name brands, as can be seen from these descriptions.
The BBC reports that "Official Wang Zheng told AFP news agency the car park was meant to cater to women's 'strong sense of colour and different sense of distance'", where presumably "different sense of distance" is code for the Chinese version of the "woman driver" stereotype.  So it's only fair to counter with an American woman's joke, which asks "Why can't <insert your favorite nationality, region, or university> men parallel park?", and answers, holding up a thumb and forefinger about four inches apart, "because they think that this is eight inches".
---