« previous post | next post »
Jonathan Smith spotted this photograph of a sign in Hong Kong that is part of a blog post decrying impenetrable official language: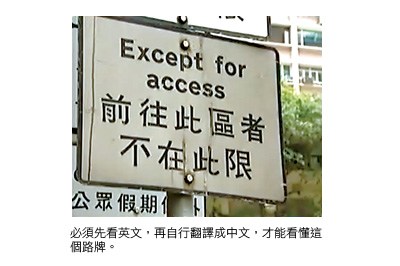 The Chinese part of the sign reads thus:
qián wǎng cǐ qū zhě bù zài cǐ xiàn
前往此區者不在此限
The meanings of the individual characters are:
before / front | to / toward | this | area | nominalizing particle | negative particle | at | this | limit
Don't be embarrassed if you can't make sense of the Chinese; few native speakers understand what it means either.
This general lack of comprehensibility is made explicit in the caption beneath the photograph:
Bìxū xiān kàn Yīngwén, zài zìxíng fānyì chéng Zhōngwén, cái néng kàn dǒng zhège lùpái.
必須先看英文,在自行翻譯成中文,才能看懂這個路牌。
"It's necessary first to look at the English, and then do your own translation into Chinese before you can understand this road sign."
But there's a catch here, since the English doesn't make any sense either! — at least not to a speaker of American English like me.
As a matter of fact, I could sort of force a meaning out of the strained Classical Chinese on the sign (which is neither in vernacular Mandarin nor colloquial Cantonese), but the English left me staring dumbly. Working back from my forced Classical Chinese interpretation, I was able to surmise that the English meant something like "the only people who can come in here are those who need access to this area," but I wasn't entirely confident that this is what was intended. Suspecting that it was English from somewhere else than America, I did a web search for "except for access", and I found that in England it seems to be a fairly common traffic sign.
Judging from web discussions and explanations, "except for access" is not all that transparent even where it is in use. It also seems to be highly unenforceable, as is evident from this dialog between a police officer and someone who got pulled over for breaking the "except for access" law. There's even a band called "Except for Access".
Further proof that the Chinese sign does not make sense to Chinese speakers (except those who composed it!) comes from Mandy Chan, who grew up in Hong Kong:
That road sign! It's been around for as long as I've lived!! As a young child, I always pondered what that Chinese saying means — my English was non-existent then.
Those signs have been there for several decades; it's not a recent production! The government people in Hong Kong write in a special way (both Chinese and English) — they are educated and have no problem speaking the languages otherwise… they just write in a strange way. I am from a family of civil servants so I know… their personal correspondences are sometimes unreadable… I have had many WTH moments….
All things considered, I conclude that "except for access" is the equivalent of the American traffic sign "local traffic only".
We may say that, although there are a lot of words — in Chinese and in English — on the sign pictured above, its meaning is not very intelligible for a large proportion of the people who see it. In that sense, the "Wordless traffic signs in China" that we examined earlier may actually be more effective than this wordy sign — though the wordless signs, as we have seen to our bewilderment, may also sometimes be rather opaque.
---