« previous post | next post »
Daniel Tse spotted this sign in Seoul recently: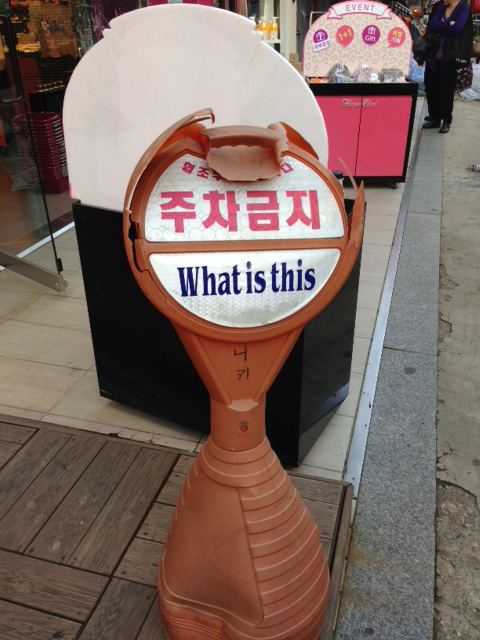 The Korean says:
juchageumji 주차금지 = 駐車禁止 = No Parking
This is from Japanese:
chūsha kinshi 駐車禁止
In Mandarin, for "No Parking", it would be more common to write one of the following:
jìnzhǐ tíngchē 禁止停车
bùdé tíngchē 不得停车
bù zhǔn tíngchē 不准停车
In Cantonese, this would be expressed as bat1 zeon2 paak3 ce1 不准泊車, where paak3 泊 is the Cantonese transcription of the English word "park". This usage has worked its way into Mandarin, where 泊 is pronounced bó. Thus, in Mandarin, bó 泊 has completely lost the close sound correspondence to "park" that it has in Cantonese. This is true of countless English words that have entered Mandarin through Cantonese, including, of course, the ubiquitous "taxi". (See "Fried scholar's".) Never mind that, as a noun, 泊 is pronounced pō and means "lake" and also never mind that, pronounced bó, it can also signify a particular surname.
If you ask a Mandarin speaker why bó 泊 means "park", they might tell you that, as a verb, it originally signified "moor; berth; anchor", so that's just a short step away from what you do with your car or truck when you park it. Since several of my favorite old Chinese poems are about mooring boats beneath bridges or along secluded streams, I choose not to disabuse my Mandarin speaking friends of that notion. It's both incongruous and comforting to imagine that, when one parks one's car in a bustling, modern Chinese city, it is akin to mooring one's little boat in a quiet, secluded nook.
[Thanks to Bill Hannas and Bob Ramsey]
---