« previous post | next post »
While Chinese characters are inimical to the full writing of the topolects, they occasionally can be used to convey a sense of certain aspects of various local or regional forms of speech.
Here are some examples from the Northeast / Dongbei: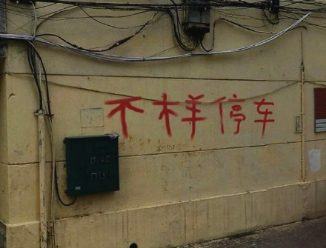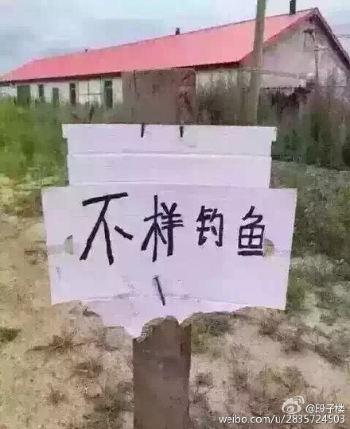 The first sign says:
bù yàng tíngchē 不样停车 (lit., "not thing / kind to park car")
bù yàng diàoyú 不样钓鱼 (lit., "not thing / kind to fish")
In both cases, bù yàng 不样 (lit., "not thing / kind") is being used for bù ràng 不让 ("it is not allowed"), since ràng 让 is pronounced like yàng 样 in Northeastern topolect.
Another example from the Northeast: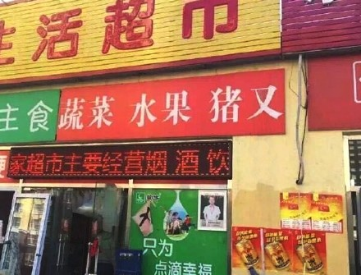 In this case, zhūyòu 猪又 (lit., "pig again") stands for zhūròu 猪肉 ("pig meat", i.e., "pork") in Dongbei topolect.
The next example is really curious: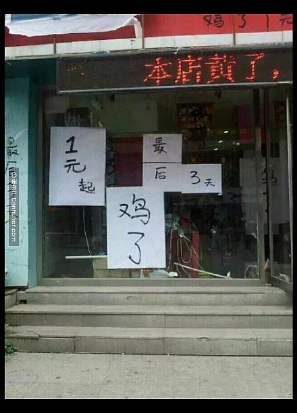 The two signs at the top are straightforward:
yī yuán qǐ 1 元起 ("starting from 1 yuan", i.e., "1 yuan and up")
zuì hòu sān tiān 最后3天 ("last three days")
The bottom one reads:
jīle 鸡了 ("chicken!")
jíle 急了 ("hurry!)
In our final example, Pinyin is used to indicate Dongbei pronunciation: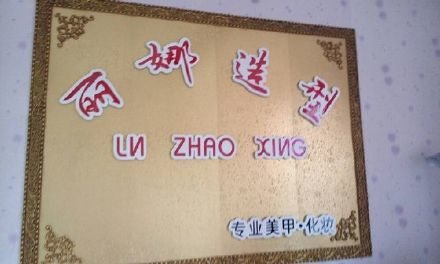 The shop's name is "Lìnà zàoxíng 丽娜造型" ("Lina Modeling").  In Dongbei topolect, that would be pronounced Lìnà zhàoxíng, and that is reflected in the Pinyin on the sign.
For those who are curious, the writing on the bottom right of the sign says:
zhuānyè měijiǎ huàzhuāng 专业美甲化妆
("professional manicure and makeup")
Further reading
"Hokkien in Singapore" (9/16/16), which references these two articles on the inadequacy of the Chinese script for writing Taiwanese:
Cheng, Robert L. (Zheng Liangwei) 1978. "Taiwanese Morphemes in Search of Chinese Characters" Journal of Chinese Linguistics, 6.2 (June): 306-314.
Victor H. Mair, "How to Forget Your Mother Tongue and Remember Your National Language".
Other posts have pointed to the missing morphemes for writing Cantonese, Shanghainese, Sichuanese, Shandongese, and even Pekingese.
[Thanks to Zeyao Wu]
---