« previous post | next post »
Speakers of Kongish have three ways to write their equivalent of English "Go!":  1. "ga yao" (Cantonese Romanization of the wildly popular term), 2. 加油 (the Sinographic form of the Cantonese expression), 3. "add oil" (Chinglishy equivalent of the former two forms).
See this excellent article by Lisa Lim for a brief introduction to Kongish:
"Do you speak Kongish? Hong Kong protesters harness unique language code to empower and communicate:  The mixed code of romanised Cantonese and English has helped popularise phrases such as 'add oil', from Cantonese 'ga yau'", SCMP (30 Aug, 2019).  [VHM:  Includes a nice summary of Romanization efforts for Sinitic topolects from the late 16th century (Matteo Ricci) to the present.]
Illustration from the article: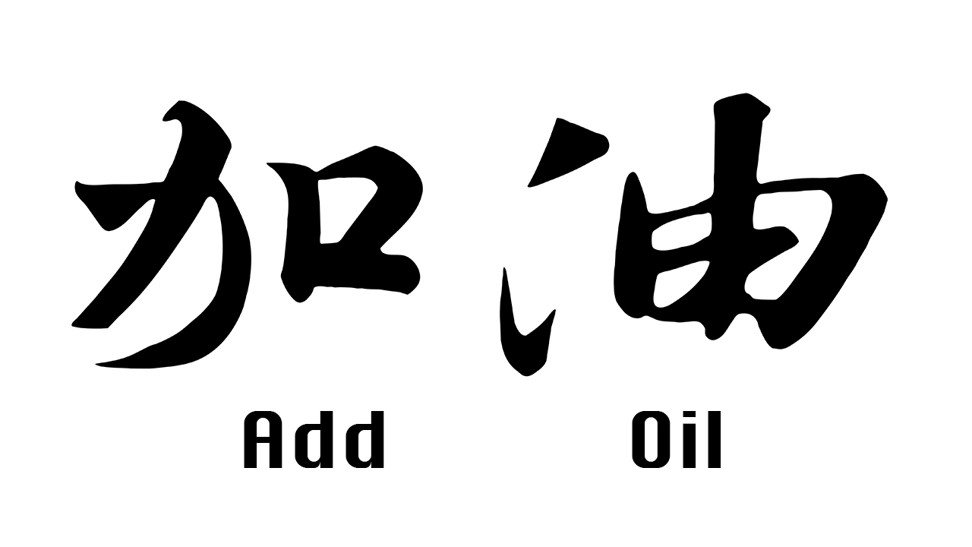 Most people literate in Chinese who see the above calligraphy will feel disoriented by the fact that the character for "oil", 油, is written with 冫 ("two dots ice") instead of 氵 ("three dots water").
In fact, the version with two dots ice is a cursive form of 油, which means that it is quite legitimate for a calligrapher, but it's odd that the other character, "ga (Mandarin jiā) 加" is written in regular script, so that would mean that we have one two-character expression written half in regular script and half in cursive script.
For those who are curious, the cursive form of "ga / jiā) 加" is given in Fig. 3 here, from which we can see that it is the source of the Japanese hiragana "ka か".
Zeyao Wu offers another possibility for the 冫 ("two dots ice") form of 油 ("oil").  Namely,
It is a mistake based on a radical-simplification (from traditional 氵-radical Chinese characters to simplified 冫-Chinese characters ). I found that many simplified 冫characters are written as 氵radical characters in traditional Chinese.
For example,
jiǎn 減-减 ("reduce; diminish; decrease, subtract")
liáng 涼-凉 ("cool; cold")
jìng 淨-净 ("clean; pure")
chōng 沖-冲 ("rinse; flush; wash out / away / down")
So I think it is a mistake that people simply believe 氵should be written as 冫in simplified Chinese.
Out of more than 47,000 characters in the Kangxi Dictionary, there are 1,595 characters grouped under the water radical, but only 225 under the ice radical.  [Sources: here and here.]
If 油 ("oil") really were written with the 冫 ("two dots ice") radical, one would expect it to be frozen, but such is not normally the case.
No matter how you write it, Cantonese "ga yau" means "give it the gas", and that is exactly what the Hong Kong protesters are doing by every means at their disposal.
Readings
This article by Elaine Yao amounts to a primer of Kongish:
Hongkongers mix English and Cantonese into new language, Kongish
Born as a language of protest, Kongish – a humorous mix of Cantonese and literal English translations from the local tongue – is gaining currency among bilingual young Hongkongers as a badge of identity
South China Morning Post (1/21/16)
Highly recommended!
For a lengthy list of posts on the language and writing of the Hong Kong protesters, see the "Readings" at the conclusion of "Hong Kong protesters messing with the characters, part 2" (9/1/19).
[Thanks to Bob Bauer, Pui Ling Tang, Xiuyuan Mi, and Leqi Yu]
---