« previous post | next post »
A rather disturbing (at least to me) article in the South China Morning Post (7/24/16), "How China's quest to become a football powerhouse is revamping the beautiful game:  China has emerged as deep-pocketed investor in what amounts to a global power grab for influence in football", is preceded by this photograph: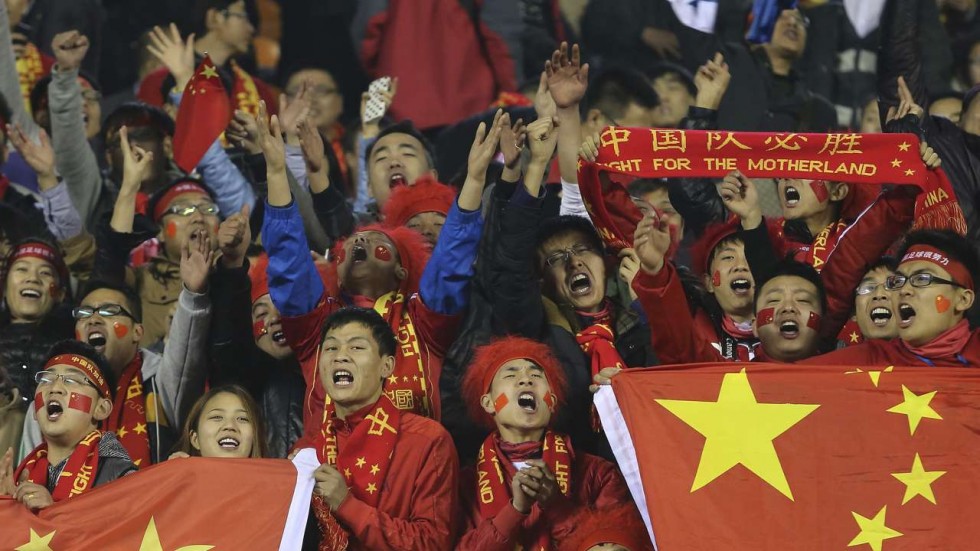 You can find photographs of the banner that says "Fight for the motherland" all over the web, e.g., here, here, and here.  It's so ubiquitous in Chinese sports, especially soccer, that it must be standard issue and must have been sanctioned by some governing body.
But what does the corresponding Chinese wording say?
Zhōngguó duì bì shèng 中国队必胜
("the Chinese team will surely win")
The Chinese and the English are so far apart in their sense and sentiment that you really can't call the relationship between them one of "translation".  You can't even call it paraphrase.
Here at Language Log, we have three categories under which we usually put posts about translation:  Translation, Lost in translation, and Found in translation.  I don't think that "Fight for the motherland" can rightly be placed under any of these categories.  Consequently, for want of a better designation, I'm tentatively calling it "non-translation".
Whoever was responsible for rendering Zhōngguó duì bì shèng 中国队必胜 ("the Chinese team will surely win") in English must have thought that the conviction conveyed by the Chinese was not suitable for English eyes and ears, so they came up with something that they considered to be more appropriate for foreign consumption.  Unfortunately, "Fight for the motherland" sounds gauche to sports fans of other countries.  In my estimation, they should start all over with a new Chinese slogan and a more or less accurate translation of whatever they come up with.
[h.t. Mark Metcalf]
---