« previous post | next post »
Cartoon in China Daily (7/5/19):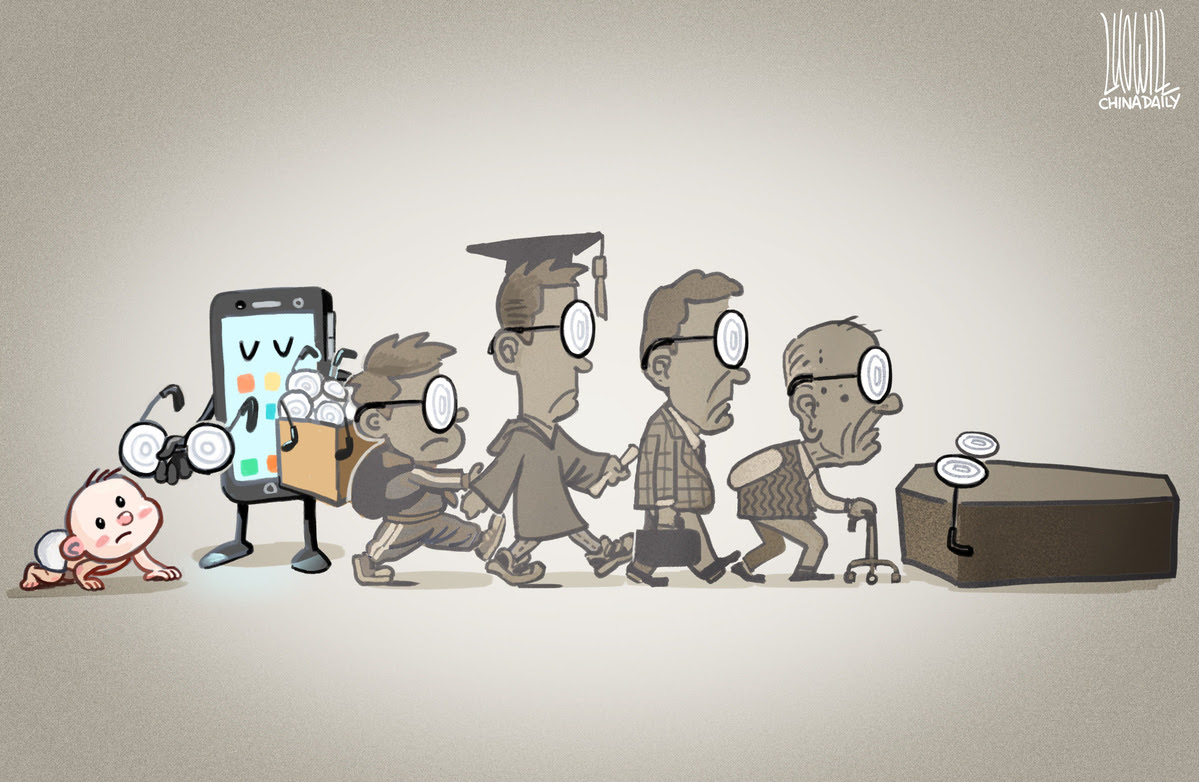 Cellphones may well have exacerbated the problem of epidemic myopia in the Sinographic sphere, and especially reading and writing the densely structured, tiny characters on small screens puts a tremendous strain on the eyes, but nearsightedness was already a serious problem in the Sinosphere long before cellphones were invented.
Readings
"Chinese characters and eyesight" (11/12/14)
"An Eighteenth-Century Japanese Language Reformer" (4/23/15) — fascinating comments on the Sinographic writing system and comparison with alphabetic writing in India and Holland.  "Only China concocted a cumbersome system, so things are disorderly there and everything is troublesome."  An argument for writing in kana.
"Sinophone and Sinosphere" (11/8/12)
"The Sinophone" (2/28/19)
"Writing Sinitic languages with phonetic scripts" (5/20/16)
"Writing characters and writing letters" (11/7/18)
"Learning to write Chinese characters" (7/29/17)
"Writing Chinese characters as a form of punishment " (11/1/15)
"Copying characters" (2/11/13) — begins with a photo that brings tears to my eyes
"The cost of illiteracy in China" (3/31/12)  — The strained look of the little girl in the photograph accompanying the post speaks volumes! One often sees exactly that look (note especially the pinched brow) on the faces of children (and even adults!) who are trying to extract sounds and meanings from the densely packed, complicated strokes of the morphosyllables on a page. This is not to mention that the texts children are asked to read at a young age are poorly written, employ an execrable style (too wooden and grown-up, semivernacular-semiclassical, etc.), and are on dull subjects that are completely inappropriate for elementary and middle (junior high) school pupils.
[h.t. James Fanell]
---