« previous post | next post »
From a collection of photographs of Chinese school children in rural areas: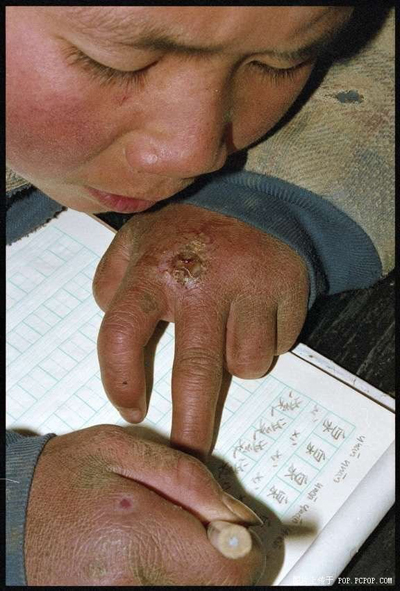 At first, when I saw this picture, I was happy, because Pinyin (Romanization) was being used to phonetically annotate characters, but the more I looked at it, the sadder I became.
The obvious poverty of the child is enough to make one cry. If you're wondering what the sores are on this child's hands, he has a very bad case of the chilblains. I know what they are firsthand, since I've lived in poor villages where most of the children's hands and feet were like this during the cold months, and I've had some pretty bad cases myself when living in reduced circumstances.
Then there is the mindless copying of characters — completely out of context, usually not even as parts of words, much less sentences. My soul aches for boys and girls who are subjected to this kind of homework. I've stayed in Chinese homes where children spend dreary hours copying characters hundreds of times every evening, instead of reading interesting stories, solving challenging problems, or playing stimulating games.
There's also the regrettable fact that the tones are wrong for both of the characters. The first character is quán 泉 ("spring; fountain"), for which the student has first tone; it should be second tone.
The second character — supposedly pronounced xì — is consistently written in such a misshapen manner as to be almost unrecognizable. It turns out that it is xī 溪 ("stream; brook; rivulet"), first tone instead of fourth tone. The semantic field of the two characters (both have water radicals, though of different shape and in different positions), plus the nature of the boy's poverty, leads me to believe that he must be from a part of China where water is scarce (e.g., the north or northwest, perhaps Gansu). My late wife, Li-ching, used to go to schools like these to teach the children (and adults too!) Pinyin so that they could acquire literacy.
I suppose that the incorrect tones are due to interference from the local topolect and the lack of a teacher trained in Modern Standard Mandarin (MSM; Putonghua).
One of my graduate students from China notes:
The writing of misshapen characters also happened when I was a little kid. And I see this happen every day in my mother's kindergarten even now. Children use pencil and ballpoint pen instead of a brush to practice writing in the beginning. I think that is the main factor which makes the children to be unable to handle the shapes of the characters they write.
He has a point, since the standard forms of the characters are based upon brush-written strokes, and it is impossible to execute them completely accurately if one does not use a writing instrument with a soft, flexible tip. To tell the truth, however, it is devilishly difficult to inscribe, for example, the thirteen strokes of xī 溪 within a tiny square, while maintaining the proper proportions and correct order, especially the right side with so many components stacked on top of each other and in intricate juxtapositions. It is no wonder that the little boy cannot help but have the right half of his xī 溪 tip over diagonally and run outside of the box at the bottom right — a definite no-no which might lead to physical punishment. Never, never let the slightest stroke stray outside the confines of the square, even when writing a character such as the one that consists of four dragons 龍, two on top and two below; they all have to be stuffed into that little box.
In impoverished schools such as the one this boy attends, the inability to write characters correctly cannot be blamed on computers or cell phones (see "Character amnesia" and "Character amnesia revisited"). In the end, so long as characters constitute the official writing system for China, there's no choice but for children to practice writing them by hand over and over again, whether with a pen, pencil, or brush, as described here and here.
My plea is that character practice be done in the context of writing meaningful words and sentences, not just monosyllables, and that students be permitted to substitute Pinyin when they simply do not know how to write in characters something they want to express. This was the fundamental principle of the highly successful Z.T. experiment which, unfortunately, PRC educational authorities seem to have discontinued (see here and here).
Finally, even if a Chinese version of this German Lernstift ("learning pen") were developed, it wouldn't be much help for this child, since the second character is so poorly formed that the pen, no matter how "smart", would most likely not be able to determine what that conglomeration of strokes is meant to be.
[Thanks to Gianni Wan, Fangyi Cheng, Sanping Chen, and Gene Hill]
---