« previous post | next post »
Following on yesterday's post ("The naturalness of emerging digraphia" [7/28/17]), Alex Wang tells me, "parents and supplementary educators often post photos like these on their WeChat moments".  Here's an example of one that he sent along: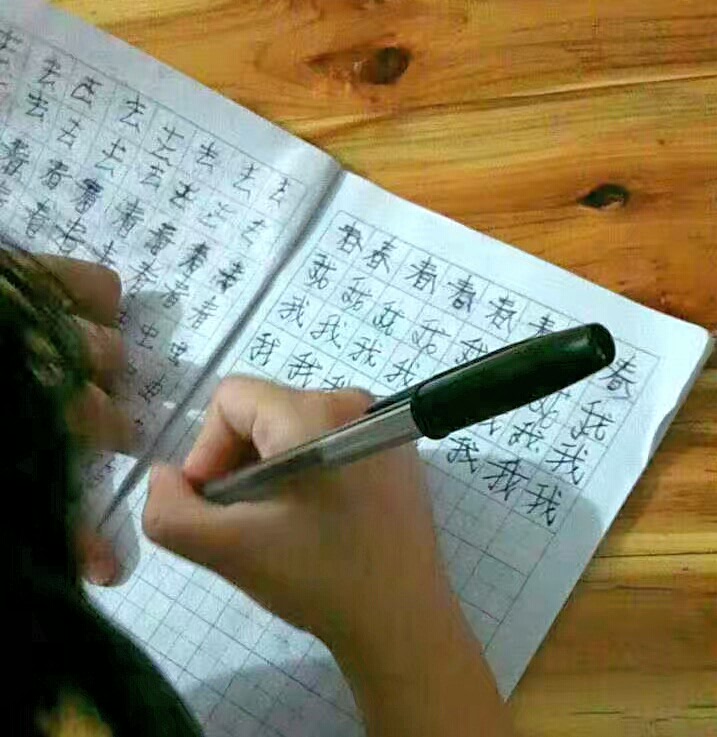 This image was accompanied by the following comment:
Jiàqī fǔdǎo duō diǎn nàixīn duō diǎn xìnxīn, cóngxiǎo guīfàn hǎo xíguàn: ná bǐ zīshì, shūxiě bǐshùn dōu yào guīfàn hǎo! Xiǎopéngyǒu yào hǎo hào xuéxí tiāntiān xiàngshàng ya!
假期辅导多点耐心多点信心,从小规范好习惯:拿笔姿势、书写笔顺都要规范好!小朋友要好好学习天天向上呀!
When being tutored during holidays, have a bit more patience and confidence.  From the time you are small, develop a standard of good habits.  From the posture of holding the pen to writing the order of the strokes, you should have the proper standard.  Little friends should 'Good good study; day day up!'" (1/14/14)
Mind you, this is what our little friends are supposed to do in their supplementary tutorials during vacation time.  You can imagine what it's like during the regular school year.  No rest for the weary.
Meanwhile everybody (except the Chinese language teachers) are pushing them to do better in English because that's what will really make or break their future.
Learning how to write Chinese isn't easy!
Here's some evidence for that:
Oh, what was the child trying to write in the picture above?
One of my graduate students from China declared:
I think this pupil (??) was writing four characters: qù 去 ("go"), chūn 春 ("spring"), chóng 虫 ("bug; insect"), and wǒ 我 ("I"). The characters were twisting in the squares, and toxic in a way that I even started to doubt the orthodoxy of writing.
Another said:
Six, which are qù 去 ("go"), kàn 看 ("see; look"; but I think it is wrongly written), chóng 虫 ("bug; insect"), jī 鸡 ("chicken"), chūn 春 ("spring"), and wǒ 我 ("I").
No matter how many characters the pupil was trying to write, these are simple and common ones.  Yet the pupil was struggling with them, including qù 去 ("go"), which has only five strokes and is of extremely high frequency.  Even such a quotidian, simple character as qù 去 ("go") must be copied hundreds of times to be mastered in its correct proportions.
As for a character like shǎ 傻 ("foolish, silly, stupid; imbecilic"), which was missed by the child in yesterday's post, it has 13 strokes (just above average for all characters), and that's how you'll feel when you try again and again to write it with all the strokes in their right order, correct shapes, and proper proportions.  And shǎ 傻 ("foolish, silly, stupid; imbecilic") is not among the more formidable characters one has to face every day.  Moreover, be prepared to master at least two thousand of these buggers if you want to be moderately literate.
[Thanks to Fangyi Cheng and Yixue Yang]
---