« previous post | next post »
In yesterday's South China Morning Post (Saturday, March 31, 2012), Education section, there is an article by Raymond Li entitled "US136b — Cost of Illiteracy on Mainland". Here's the link (sorry I can't send a link that provides full access for non-subscribers).
Just a few things to note:
1. The illiteracy figures for China seem very low — said to be around 4% of the population in 2010. That doesn't square with my own experience in the countryside and in remote areas where large segments of the population (especially women and peasants) are illiterate (knowing only a hundred or so characters at best).
2. The article states that recognizing 950 characters is considered as being literate, but we know from pedagogical standards outside of China that this figure is woefully inadequate for functioning as a literate member of a society that uses Chinese characters for daily communication in a variety of fields, literature, news media, instructional manuals, high school and college textbooks, and so forth.
3. It is disappointing that the article doesn't mention pinyin as the current best hope for overcoming illiteracy in China, nor does it have anything to say about the increasingly important role pinyin plays in IT, advertising, signage, indexing, and so forth.
A person must write 950 Chinese characters to be considered literate.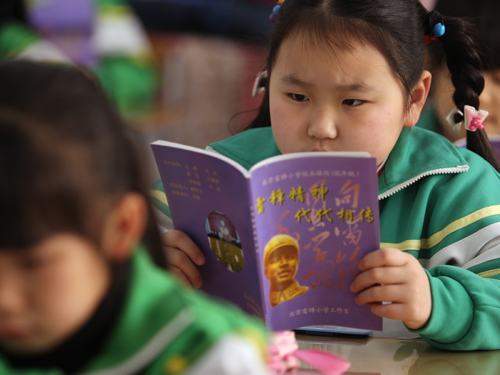 4. The strained look of the little girl in the photograph accompanying the article speaks volumes! One often sees exactly that look (note especially the pinched brow) on the faces of children (and even adults!) who are trying to extract sounds and meanings from the densely packed, complicated strokes of the morphosyllables on a page. This is not to mention that the texts children are asked to read at a young age are poorly written, employ an execrable style (too wooden and grown-up, semivernacular-semiclassical, etc.), and are on dull subjects that are completely inappropriate for elementary and middle (junior high) school pupils.
[A tip of the hat to Linda Wu and thanks to Gordon Chang and Stefan Krasowski]
---