« previous post | next post »
"Can Chinese Write Their Own Language?" | ASIAN BOSS (7/19/18)

It's one thing when foreigners complain how hard it is to master Chinese characters.  It's quite another when Chinese are caught on camera, as in this video, not being able to write the characters for common words in their language.
By coincidence, just this morning I received confirmation of the difficulty of Chinese writing in a message from Wang Tong, a colleague in Beijing: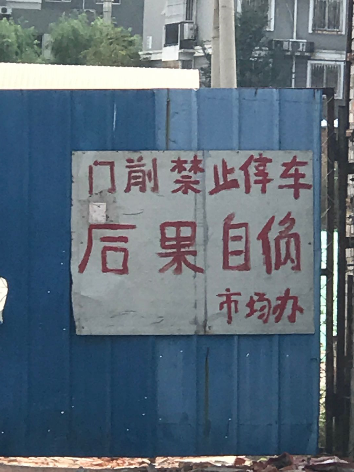 The sign reads:
mén qián jìnzhǐ tíngchē
hòuguǒ zìfù
shìchǎng bàn
门前禁止停车
后果自负
市场办
No parking in front of the gate / door
You are responsible for the consequences
Market office
(My computer refuses to type 门 properly!)
See if you can spot which characters are miswritten.  There are some hints in this note from Wang Tong:
I found this picture by chance as I went through my iPhone album. It was taken last October when I took my daughter and her cousin on an excursion to a Beijing suburb. The two girls gurgled when they saw the Sinitic characters on the notice. Four very simple and commonly used characters are miswritten out of ten. The word 场 is also miswritten in a strict sense. I was a bit surprised too. The person who wrote the notice, apparently an adult, might have failed a grade 3 Chinese exam in primary school.
Earlier Language Log posts dealing with miswritten characters and the difficulty of the script are countless.  In the following Readings, I'll just list a few of those with more general implications
[h.t. Ben Zimmer]
---