During the course of the 20th century, the frequency of the English definite article the decreased gradually and radically. I first noticed this effect about a year ago, in a post about the history of State of the Union addresses ("SOTU evolution", 1/26/2014), where I observed, in reference to the graph on the right, that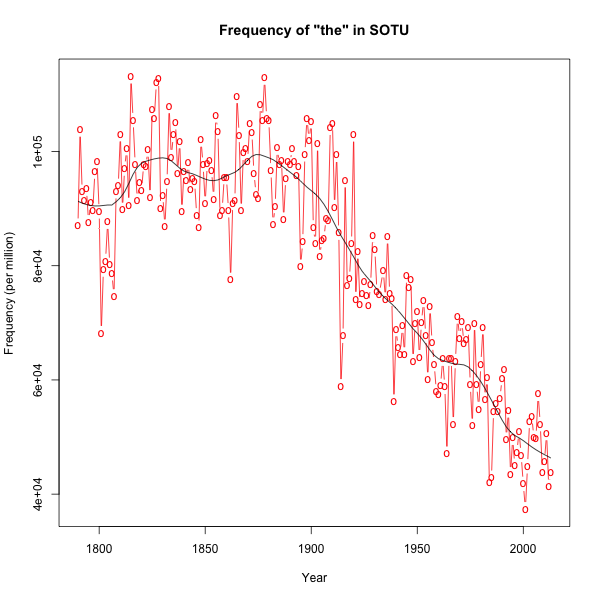 The average frequency of the in the most recent 10 SOTU addresses (2004-2013) was 47,458 per million words; in the first 10 addresses (1790-1799, all delivered as speeches to Congress) it was 93,201 per million words, almost double the frequency.  And the decline during the 20th-century era of oral addresses seems to have been a gradual one.
I speculated that
Maybe the style of speeches has been getting gradually less formal, and therefore gradually less like written style. Or maybe even formal styles have been changing.
And I noted that a corresponding effect can be seen in two other sources, the BYU Corpus of Historical American English (COHA) and the Google Books N-Gram viewer (GNG), though it is considerably smaller in magnitude: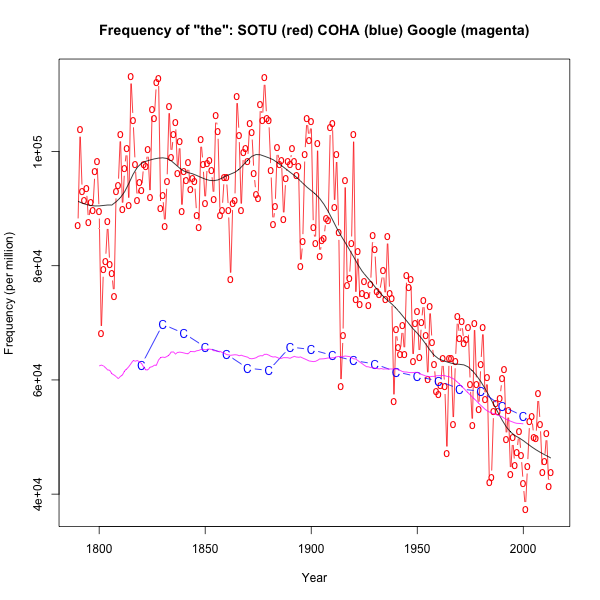 COHA and the Google Books data pretty much agree, which is reassuring; and they both suggest a slight decline in the frequency of the; but the change that they show is very modest compared to the change in SOTU frequencies. So I feel that the explanation for the SOTU change remains to be found.
At that point, I turned my attention to other aspects of SOTU evolution. But a student paper recently reminded me of this issue.