« previous post | next post »
In a comment on one of yesterday's posts ("Adjectives and Adverbs"), Q. Pheevr wrote:
It's hard to tell with just four speakers to go on, but it looks as if there could be some kind of correlation between the ADV:ADJ ratio and the V:N ratio (as might be expected given that adjectives canonically modify nouns and adverbs canonically modify verbs). Of course, there are all sorts of other factors that could come into this, but to the extent that speakers are choosing between alternatives like "caused prices to increase dramatically" and "caused a dramatic increase in prices," I'd expect some sort of connection between these two ratios.
So since I have a relatively efficient POS tagging script, and an ad hoc collection of texts lying around, I thought I'd devote this morning's Breakfast Experiment™ to checking the idea out.
This turned out to be one of the easiest experiments that I've done — it required a five-line shell script that took about 10 minutes to run, and a five-line R script to make this plot, which suggests that Q. is on to something: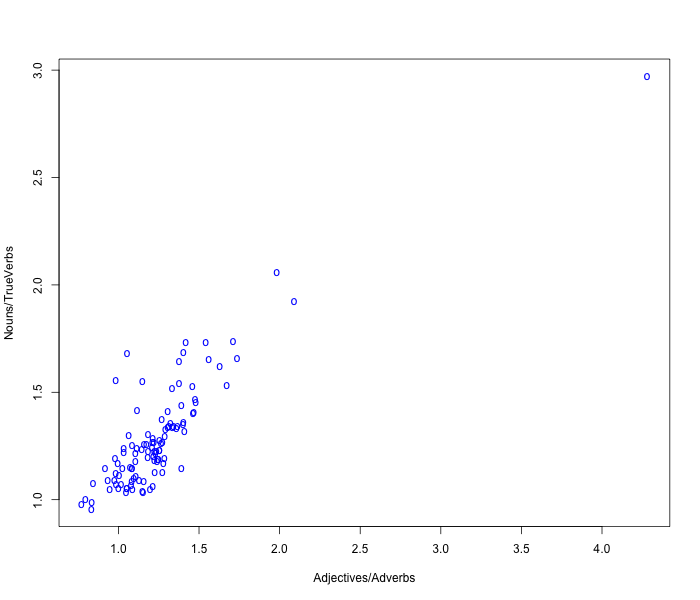 The correlation is r=0.870.
The point in the upper-right corner is the U.S. Constitution. The point in the lower-left corner is Peter Pan.
That plot used the count of "true verbs", i.e. the count of verbs minus the count of forms of to be.
If we do the same thing including the to be counts, we get this, with a slightly lower correlation of r=0.853: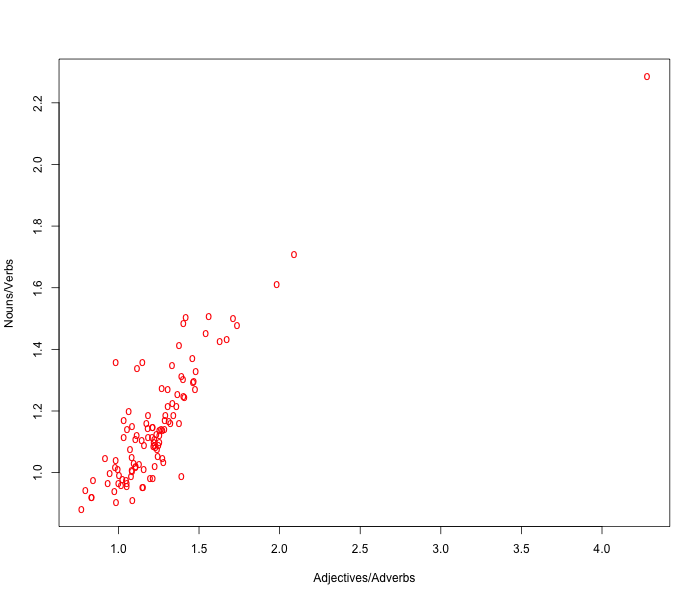 Adding the four politicians to the first plot, we get this (Trump=T, Clinton=C, Sanders=S, Cruz=Z):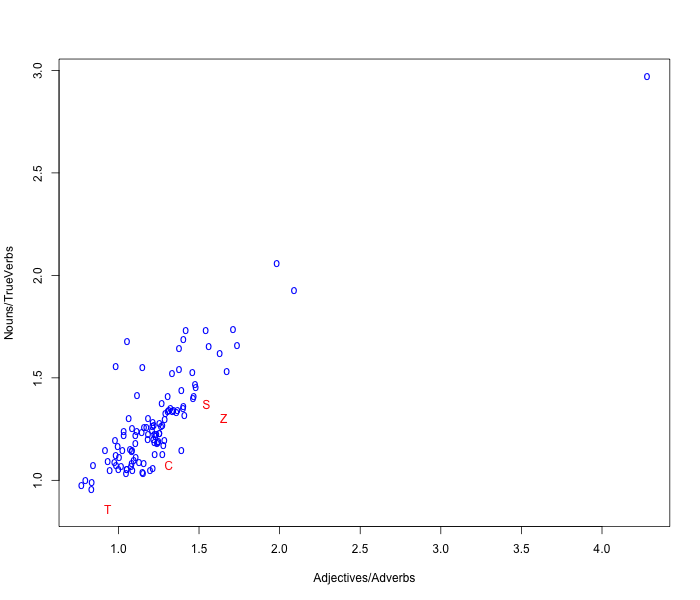 If you're curious about the rest of the distribution, I've linked to the list of works sorted by Noun/TrueVerb ratios, and alternatively sorted by Adj/Adv ratios. And the (slightly massaged) output of my POS-counting script is here.
As far as I know, this relationship has not previously been noted, so I tentatively name it Q. Pheevr's Law.
Overall, this makes me suspect that there are some interesting stylistic dimensions lurking in the distributions of word types, including simple semantic categories as well as parts of speech — along the lines of Biber 1991, but offering a finer-grained of prose styles. But breakfast is over, and duty calls…
---