« previous post | next post »
From the British Museum: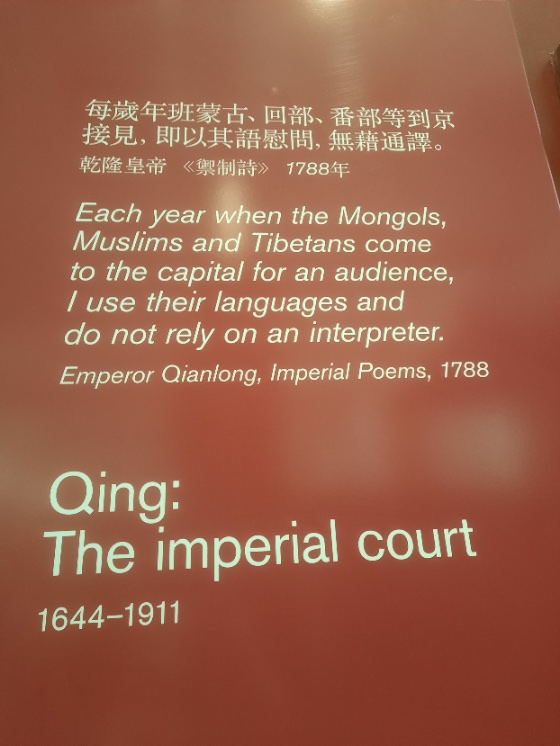 The Chinese characters say:
Měi suìnián bān Ménggǔ, Huí bù, Fān bù děng dào jīng jiējiàn, jí yǐ qí yǔ wèiwèn, wú jí tōngyì. Qiánlóng huángdì yùzhì shī
每歲年班蒙古,回部,番部等到京接見,即以其語慰問,無藉通譯。
乾隆皇帝 《御製詩》
We will start with the assumption that the English translation on the wall of the BM is serviceable, but will find, by the end of the post, that it must be radically amended and amply explicated.
If, as the translation on the wall says, the Qianlong emperor (1711-1799; r. 1735-1796), whose native language was Manchu and who was fluent in Mandarin, was able to speak with his Mongol, Muslim, and Tibetan tributaries without the need for interpreters, that would have been both impressive and convenient.  But we need to look into the actual situation in a bit more detail to determine linguistically exactly what was going on.  I asked a number of colleagues who are specialists in these languages for their opinions on the matter, and this is how they replied:
Chris Atwood:
Elliot Sperling noted from the biography of the Tibetan lay nobleman Doring Pandita that the Qianlong emperor talked with him in Mongolian – Tibet had been part of the Khoshud Khanate of Tibet, so Mongolian was the secular language, just as Tibetan was the religious one. David Brophy has also demonstrated how the Uyghur princes of Qumul and Turpan used for their writing a heavily Mongolized version of Chaghatay Turkic in their official documents; one may assume they too also spoke Mongolian. So, although the Qianlong emperor undoubtedly knew some religious Tibetan. it is plausible to me that he spoke to Mongols, Muslims, and Tibetans "in their language" (the plural is added in by the translator), because "the language" they all were speaking was actually Mongolian, the lingua franca of the Khalkha-Zunghar rule.
Greg Pringle:
I cannot comment one way or another on the Muslims and Tibetans, but I have read (I don't remember the source) that when the Torghuts (Kalmyks) fled Russia and returned to China in about 1771, the head of the Torghuts personally met and spoke with Qianlong, and Mongolian was the language used in the meeting. Despite the difference in dialects (Torghuts spoke a far western variety while Qianlong spoke the language of the eastern Mongols, who were part of the Manchu banners), they were apparently able to make each other understood without interpreters.
Johan Elverskog:
That statement is much bandied about, and while it is likely Qianlong could converse with Tibetans and Mongols, it seems unlikely he could speak any Turkic language (much less Persian or Arabic).
Gray Tuttle:
I don't know how much he was able to speak Tibetan, but he did try, and bragged about it at the time (in Empire of Emptiness, right at the end, Pat Berger translates a passage to the same effect re: Qianlong bragging about communicating directly with the Panchen Lama around the same time this quote is from.
Peter Perdue:
I don't believe Qianlong for a second: he was one of the most boastful and vain of all emperors, but his Manchu was much worse than Kangxi's, not to mention Tibetan and Mongolian. Maybe he knew the equivalent of 你好吗 and that was enough.
Mark Swofford:
The Wikipedia article on the Qianlong emperor cites Mark Elliott of Harvard's book Emperor Qianlong: Son of Heaven, Man of the World. for the unquoted statement "In his childhood, the Qianlong Emperor was tutored in Manchu, Chinese and Mongolian,[41]" and the unreferenced assertion that he "arranged to be tutored in Tibetan, and spoke Chagatai (Turki or Modern Uyghur)."
Peter Golden:
There seems to be some truth in this. According to the lengthy Wikipedia entry on him, he is reputed to have spoken Manchu, Chinese, Mongolian, Tibetan and Chaghatai (that would be the "Muslim" language).
Mårten Söderblom Saarela:
I know he studied various languages, but not sure how well. I recall seeing Tibetan-language flash cards that he used at the palace museum library in Beijing in 2013. At that time, the librarian, 春花, told me that he studied for his meeting with the Panchen Lama, but during the meeting the two of them actually spoke in Mongolian. Qianlong evidently knew Mongolian, and also spoke it during audiences with Dzunghar visitors.
Mark Elliott:
It's credible that Qianlong wrote this, yes. In fact, I think I remember seeing it somewhere before.
Is it credible that the claim is true? He would have been able to have had a limited conversation, I think, with Mongol visitors, but I don't think he would have managed more than a few phrases in Tibetan (his friend the Janggiya khutukhtu may have taught him some). No chance he could have a conversation in Turki/Uyghur, I don't think.
Note however that the claim is, "以其語慰問," which I would translate not as "use their languages" but as "greet them in their own language." This he could certainly have pulled off. So I think the real issue here is with the English translation.
Steve Wadley:
My Manchu reading group companions were much more adept at finding the quote.  It is in a preface to a poem about pacifying Taiwan of all places and it is quoting the commentary on the poem, so not something the Qianlong Emperor himself said so the British Museum has misapplied the attribution by translating it in first person.  As you see the commentary says he studied those various languages when he conquered the people, but their opinion was that perhaps he may have studied enough to be able to greet the various groups in their own language but may not have known much more than a few phrases of greeting.  Here's the reference, the commentary is in green type:
序欽定平定台灣紀略 清 乾隆五十三年廷臣 奉敕撰
(174)
及時膏澤可教屯,光武寧當學閉門。弗藉舌人通譯語乾隆八年始習蒙古語;二十五年平回部,遂習回語;四十一年平兩金川,略習番語;四十五年因班禪來謁,兼習唐古忒語。是以每歲年班,蒙古、回部、番部等到京,接見即以其語慰問,無藉通譯。元夕,命新舊諸番入同樂園,隨觀燈火,並燕笑聯情,用示柔遠之意,華鐙聯席共歡論。
(source)
VHM:  I leave the Chinese text intact for Sinologists, Manchuists, and other relevant specialists who need access to it.
Perhaps the Manchu rulers' mastery of many languages of their subjects was one of the reasons for their personal longevity (two of them, including Qianlong, ruled for 60 years or more; all 11 of them ruled for an average of 25 years each) and the longevity of their dynasty (1636-1911, for a total of 275 years).
Selected readings
[N.B.  I wish to thank Kiewwoo Goh for spotting this quotation in the British Museum and for being intelligently curious enough about it to send it to me for further consideration.  Thanks also to Josh Fogel for responding to my inititial query on the quote.  Above all, I want to thank all readers and collaborators of Language Log for contributing to a great, cooperative enterprise that makes possible such marvelous solutions to compelling questions as the one embodied in this post.  Zhōngxīn gǎnxiè 衷心感謝 ("With heartfelt thanks!")]
---