« previous post | next post »
Devin Fitzgerald, who works on Qing manuscripts at Harvard, posted an image on Twitter showing some of the difficulties that pre-conquest Qing archivists had with Chinese characters: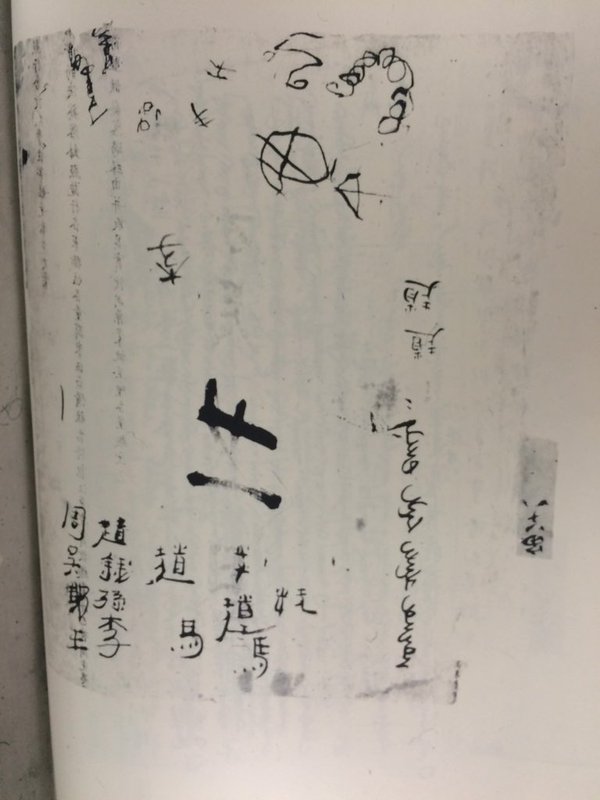 Devin notes:  "The corner has the first lines of the Bǎi jiā xìng 百家姓 ("Hundred Family Surnames").  Here are the first eight surnames, in two rows of four characters each:
Zhào Qián Sūn Lǐ 趙 錢 孫 李
Zhōu Wú Zhèng Wáng 周 吳 鄭 王
You can compare these printed forms with the chicken scratches on the manuscript.
In a message to some friends, I wrote:  "Like first-year students in America".
Brendan O'Kane replied:  "Yes — I retweeted it with the comment 'Chinese-as-a-second-language learner solidarity'."
By sheer coincidence, I had just been reading an article by Thomas Vien, "No Exit in China",  also published as "This Is China's Greatest Problem (A HINT: Its Not the South China Sea)", which begins with this vignette about illiterate Manchus:
In the 18th century after a passing breeze caused him to lose his place in a book, a Chinese scholar named Xu Jun wrote this short poem: "The clear breeze is illiterate, so why does it insist on rummaging through the pages of a book?" Though this couplet was seemingly harmless, the Manchu-ruled Qing Dynasty (1645-1911) executed Xu in 1730 for seditious thought. The Qing, invaders from the Manchurian steppe whose dynastic name meant "clear" or "pure," were acutely sensitive to the insinuation that they were illiterate barbarians despite adopting the trappings of Chinese civilization. Countless other poets shared Xu's fate during the dynasty's infamous literary inquisitions. While this paranoia appears excessive, it was a reflection of a very real problem for the Manchus….
The pre-conquest Manchus may have been illiterate in Chinese, but some of them were literate in their own script.  You can see a sample of it in the above photograph on the bottom right.  Now I feel illiterate, because, even though I realize that it is upside down, I can't quite make sense of it — something like "songkoi cimari f/wamji banj" — not the least because "songkoi" is usually a postposition.  Perhaps some Language Log readers will do better with it.
LATE ADDITIONS:
Pamela Kyle Crossley reads the Manchu as "songkoi cimari yamji baica".  On that basis, she was able to find this article in Japanese (pdf) that includes the above photograph. The phrase means "study the evening on the basis of the morning."
Other colleagues interpret the Manchu maxim as follows:
1.
It says songkoi cimari yamji baica, meaning roughly "in accordance with the investigation tomorrow evening."
2.
It should read songkoi cimari yamji baica. However the last word is badly written and it reads more like baije.
It means "according to (or "in light of")… investigate tomorrow evening",  What "according to" refers to should come before songkoi, which is a postposition.
3.
The text is upside down with regard to most of the Chinese characters on the sheet, and it is Manchu. The letters are relatively easy to read but I cannot make much sense of it. The words seem to be in terms of <graphemes> /phonemes/:
<suvgqui> /songkoi/ trace-GEN / according to (normally used postpositionally)
<cimari> /cimari/ tomorrow / morning
<jamzi> /yamji/ evening
<bajiza> /baija/ ? – if this was Mongolian, it could mean: wait! etc.
Altogether, there are no specific Manchu letters or diacritics (tongki fuka) in the text, which means that it could have been written before the script reform of the early 17th century, or also by a Mongol using the regular Mongolian letters.
4.
I have just one brief comment. I think that the last word is Baija, a Manchu personal name attested in the Usu clan from Warka ba, see A Dictionary of Manchu Names by Giovanni Stary, Harrassowitz, 2000: 27.
Regardless of precisely what the Manchu saying means, it seems entirely appropriate for someone who wants to become literate in Chinese or Manchu, or in any language for that matter.
[h.t. John Colarusso; thanks to Gertraude Roth Li, Leopold Eisenlohr, Nicola Di Cosmo, Juha Janhunen, Alexander Vovin, and Tatiana Pang]
---